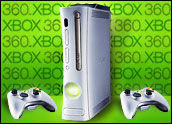 Microsoft will not reduce the price of its Xbox 360. So said John Porcaro, group manager of PR and communications for Microsoft U.S.
After ongoing rumors that Microsoft would slash the price of its gaming console, Porcaro used his blog to set the record straight.
"If you've been holding off picking one up because you think they'll be cheaper in the future, or they've been hard to find, or because you're too busy catching up on past episodes of 'Lost,' wait no longer!" Porcaro urged his readers.
Just a Matter of Time
Microsoft may have no plans to cut the price of its next generation gaming console this year, but it's just a matter of time before the software giant relents, according to Enderle Group Principal Analyst Rob Enderle.
"The fact of the matter is that as the game system ages it will go down in price, just as its predecessor did. The question is on what schedule. Right now the Xbox 360 is the only advanced game system out there, so Microsoft probably feels it doesn't have much competition," Enderle told TechNewsWorld.
With Nintendo and Sony coming to market with competing consoles, though, Enderle expects Microsoft to do one of two things: reduce the price or introduce a series of incentives in order to remain competitive with the latest and greatest machines.
Counting Every Penny
For Microsoft's part, Porcaro reminded blog readers that for a "mere US$299" they can join the next generation with hi-definition game play, Xbox Live Silver for free, DVD movie playback and MP3 player integration.
Porcaro was taking a shot at its competitors with the "mere $299" comment, particularly Sony with its forthcoming Playstation 3. Sony's offering could sell for as much as $500. The comparable Xbox sells for $400. Only Nintendo, with its $250 price tag, is less expensive.
"The Playstation 3 has priced itself out of the market. But the Nintendo is hitting what has historically been the hot price points in the gaming systems. So the battle in the fourth [quarter] is going to be between the aggressively priced Nintendo and the Xbox 360," Enderle noted.
Games, Games and More Games
Microsoft is answering with a diversity of games, such as "Oblivion," "GRAW," "COD2," "Fight Night 3," "PGR3," and a variety of Xbox Live Arcade games. New games will be introduced in the coming weeks, including "LOTR BFME II," "Chrome Hounds," "Dead Rising," and "Madden NFL 07."
Nintendo, though, has a different approach: remote control gaming. A motion-sensitive device allows users to direct the action on the television screen using one hand, through the motion of the controller itself. In true interactive style, users playing golfing video games, for example, would swing the remote as if it were a club.
While Nintendo could struggle to ramp up manufacturing — like Microsoft did last year with the Xbox — Microsoft does have the title advantage, Enderle said. "Xbox will have more games by a factor of 10 or more. Often it's the games that move the consoles. So the fourth quarter will be an interesting quarter to watch," he concluded.