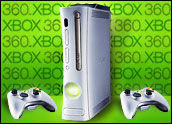 In a move to generate additional gaming revenues, Microsoft is implementing a new royalty program tied to the new Xbox console scheduled for releasethis holiday season. Analysts said the move could help Xbox get into the black.
The software giant is also placing restrictions on which vendors can sell joysticks, gamepads, steering wheels and other peripherals for its Xbox360. Microsoft will only give approval to accessory makers that meet its standards.
Microsoft will make sure no unauthorized peripherals connect to its new console by adding a security mechanism made available only to those vendors who sign a deal with them.
Turning a Profit
Microsoft had a licensing program in the past that allowed accessory makers to either pay a royalty and display an Xbox logo or decline to pay the feeand go to market without the Xbox logo. This time around, Microsoft is not offering vendors the choice.
Enderle Group principal analyst Rob Enderle told TechNewsWorld that the royalty program is one means by which Microsoft hopes to recuperate themoney it is investing in the expensive Xbox 360. But will the gamers go for it?
"Gamers haven't shown a lot of affinity for this kind of behavior and have been demonstrating some nervousness surrounding the economic opportunitiesin the Xbox," Enderle said.
The gamer is assured a better experience by using peripherals that are Microsoft-approved, but these higher-quality products also cost the gamermore. Enderle said gamers may not take kindly to shelling out more money for accessories.
Forcing Out the Riffraff
There are also pros and cons to this approach for accessory makers. Analysts said vendors that make high-quality products may not have a problem with theprogram, but cheaper accessory makers may find themselves out in the cold.
"This new program forces out the riffraff because really cheap controllers won't be allowed to work with the Xbox," Enderle said. "Ultimately, theconsole market is price competitive. It will be interesting to see if the positive aspects of a better experience for gamers overcome the negativeaspects of a higher price."
Sony's Play
The X factor is Sony. Sony does not charge royalties or premiums to vendors who market accessories for its popular PlayStation console, and analysts expect the leading player to tout that fact. But analysts said the bottom line is profitability.
"The Sony device is actually substantially more expensive to build than the Microsoft device, suggesting that it is going to have some serious problemsrecovering the revenues they are putting into it," Enderle said. "This is going to be an interesting test because the two companies are actually quitefar apart in terms of the economic models they are using."