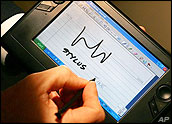 Microsoft Chairman Bill Gates is expected to demonstrate the company's first wave of Ultra-Mobile PCs at the CeBIT information and telecommunications trade show in Hannover, Germany on Thursday.
Developed under the code name Origami, the portable devices will be available next month at prices ranging from US$600 to $1,000, are expected to weigh less than 2.5 pounds and will offer battery life of at least 2.5 hours. Samsung is among the companies manufacturing the devices.
The Ultra-Mobile PCs have the full functionality of Microsoft Windows-based desktop PCs and a choice of input options, including touch-screen capabilities. The new computers are designed for mobile lifestyles, according to Bill Mitchell, corporate vice president of Microsoft's Windows Mobile Platforms Division.
"The Origami project is really our first step toward achieving a big vision. We believe that [Ultra-Mobile PCs] will eventually become as indispensable and ubiquitous as mobile phones are today," he said.
UMPCs Versus Notebook PCs
Microsoft is working toward that goal with a sequence of advances in hardware and software. The next step along the roadmap will take place in the Windows Vista release timeframe, Mitchell said.
An Ultra-Mobile PC is smaller, lighter and more portable than most other fully functional PCs and can be synchronized with a non-mobile, larger primary PC at home or work, according to Mitchell.
"The UMPC is also different from other small Windows XP-based PCs like the OQO and the Fujitsu LifeBook P1500D, which are designed for enterprise environments," he stated.
Taking on PDAs
Think of the Ultra-Mobile PC as a brand new class of devices that fills a void where the PDA does not provide enough functionality and a laptop is just too big, said Jupiter Research VP and Research Director Michael Gartenberg. and Research Director Michael Gartenberg.
"What Microsoft has done is solve some of the hard problems associated with getting Windows into a really small form factor," Gartenberg told TechNewsWorld.
For some users, like students, the Ultra-Mobile PC has the potential to become the primary computing device, Gartenberg contends. In other cases, it may act as a second or third computer that consumers use to intersect between business and personal information.
The Ultra-Mobile could compliment cell phones, he added, because it can be paired with the phone to connect to the Internet via Bluetooth technology.
Intel's Technology
The Ultra-Mobile PC features Intel's Core microarchitecture, a new foundation for its multi-core server, desktop and mobile processors. Intel hopes Core will help it regain market share lost to rival AMD.
"The Intel Core microarchitecture is a milestone in enabling scalable performance and energy efficiency," said Justin Rattner, Intel Senior Fellow and CTO. "Later this year it will fuel new dual-core processors and quad-core processors in 2007 that we expect to deliver industry-leading performance and capabilities per watt. People will see systems that can be faster, smaller and quieter with longer battery life and lower electric bills."
Microsoft's Challenge
Despite Microsoft's high-profile technology partners, educating consumers on the benefits of this new class of mobile devices is likely to be a challenge, along with the need to continually improve form factor and battery life.
"The first wave of Origami devices is more likely to appeal to an enthusiast who is using it as [a] second or third PC, but there are some interesting opportunities in the education space as well for students who can now buy affordable PC technology," Gartenberg concluded.