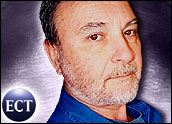 Universal Pictures has already started touting its US$150 million re-hash of "King Kong," due out around Christmas. But how will the mighty ape be kept safe from the Evil File Sharing Villains?
High-speed Internet connections can mean huge, extremely fast downloads and, as a result, movie studios are now faced with the "same thorny challenges that the music industry encountered several years ago with the emergence of file-sharing programs," says the New York Times.
Interviewed by J.D. Lasica, ex-MPAA (Motion Picture Association of America) boss Jack Valenti said, "I visited the labs at Caltech, and they're running an experiment called FAST where they can bring down a DVD-quality movie in 5 seconds. The director told me it could be operative in the market in 18 months. Well, my face blanched."
Valenti also said, "Some new business model may want to put a movie out on the Internet just after it leaves theatrical exhibition. We can't afford to let that be copied at that juncture because it's the [home entertainment] aftermarket where you make your profits."
Behind the Times?
FAST or not, Hollywood is sticking to old, and badly outmoded, physical marketing, sales and distribution models. Instead of looking to P2P and other 21st century technologies to get them moving in the digital era, the major studios and their compatriots in the music industry are behaving like King Canute who tried, and failed, to hold back the tide. And it's these same physical DVDs which allow counterfeiters to not only live long, but also to prosper.
File sharers don't come into it. Despite many examples of creative accounting and imaginative reports, neither the labels nor the studios have ever able to solidly convince anyone that a shared file equals even a single lost sale.
On the other hand, the billions of physical CDs and DVDs flooding retail outlets around the world are so easy to copy, it's ridiculous. Counterfeiters and duplicators snap them up and hours later, faithful copies, often complete with look-alike packaging, are being peddled on street corners and in flea-markets. DRM? Forget it. The only people "copyright protection" impresses are the mainstream media.
There's no denying counterfeits and fakes must put a dent in Holywood's potential bottom line but, "Hollywood reported global revenue of $84 billion in 2004, according to PricewaterhouseCoopers, the accounting firm," says the NYT. "With most theatrical releases amounting to little more than an unprofitable, expensive form of marketing, DVDs have become Hollywood's lifeblood: together with videos, they kick in $55.6 billion, or about two-thirds of that annual haul, with box-office receipts making up most of the rest."
Never Enough Cash
Nonetheless, the entertainment cartels continue to claim they and their millionaire stars and well-paid support networks are suffering terrible financial and personal hardships because of file sharing, which they try to link with "piracy," as they've dubbed the practice of copying and re-selling their product.
Interestingly, Sony, a prime mover in both the studio and music worlds and one of the most vociferous complainants, also develops, makes and markets a significant proportion of the mini recorders it says are used by "cammers" to copy movies in the cinemas, as well as burners and associated supplies and equipment.
And speaking of Sony, it traced a "pirated" copy of "Something's Gotta Give" to a screener from actor Carmine Caridi, a member of the Academy of Motion Picture Arts and Sciences. "The Last Samurai" and other pirated screeners were also tracked back to Caridi. Russell Sprague, who ended up dead in an L.A. jail cell, received 130 movies from Caridi, who was ordered to pay Warner Bros. a paltry $300,000 for providing them.
Placing Blame
A now-famous AT&T Labs report, "Analysis of Security Vulnerabilities in the Movie Production and Distribution Process," revealed that of a total of 285 movies sampled on P2P networks, 77 percent were leaked by industry insiders.
Last year Mel Gibson's "The Passion of the Christ" was one of the most popular movies on the P2P networks. Gibson sued a Hollywood post-production company claiming bad security allowed three employees to copy the movie, which eventually turned up online and on the black market.
Much more recently, the Star Wars movie, "Revenge of the Sith," suddenly appeared online the same day it opened in theaters. But that wasn't down to would-be file sharers equipped with Sony's latest "pirate" camcorders. Rather, it was another, and very deliberate, Hollywood insider leak.
P2pnet publishes a unique weekly Movies File Share Top Ten based on BigChampagne stats and our TT chart for August 25 has "War of the Worlds" still in the global No.1 spot, with "Wedding Crashers" as the top U.S. movie.
But this doesn't mean millions of people are downloading and viewing these movies instead of paying for cinema tickets. In 2004, a record number of people visited cinemas in Western Europe in 2004, with admissions reaching 896.6 million, an increase of nearly 50 million on 2003.
And global revenue of $84 billion — in one year.
---
Jon Newton
, a TechNewsWorld columnist, founded and runs
p2pnet.net
, based in Canada, a daily peer-to-peer and digital media news site focused on issues surrounding file sharing, the entertainment industry and distributed computing.
---