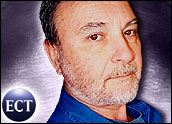 "Check out the clever, engaging and fun activities in the copyright awareness curriculum of Junior Achievement, Inc., and especially all the special activity plans, interactive lessons, informative materials and games in the piracy education section called 'What's the Diff?'" Another great, easy-to-understand place for you and your students to explore the world of copyright is copyrightkids.org.
So says one of the link pages on Hollywood's new "Sue 'Em All" campaign site, launched yesterday in a bid to staunch the flow of Hollywood movies onto, and consequent downloads from, the P2P file sharing networks.
But Downhill Battle, organizer of the hugely successful Danger Mouse "Grey Tuesday" demo (see story), which showed Britain's EMI, a member of the Big Four record label cartel, that the digital pen is mightier than the cease-and-desist order, is there too with a pair of sites aimed at countering in-school propaganda from the Motion Picture Association of America and Business Software Alliance (BSA).
The Web site kidssmellbullsh*t.com features an "I'm better than the Weasel" contest that invites kids to write a letter to BSA or submit a photo to express "how their attempt to get to your teacher makes you feel and what you think about their galavanting about."
The site www.copyrightcurriculum.com is a collaborative effort to write a public-interest curriculum for teachers who want to address these issues in their classrooms.
So-Called Ethics
"The move was to counter private sector and lobbying groups' biased educational tools that are being forced into public schools," said Downhill Battle.
What prompted the sites?
A while back, taking an entire chapter out of Hollywood's How to Brainwash Kids book, a BSA announcement said, "Elementary school students heading back to school in September will be invited to name the 'Play It Safe in Cyber Space' mascot, a copyright-crusading ferret who teaches tech-savvy kids about cyber ethics."
A copyright-crusading ferret? And the BSA teaching people about cyber-ethics? That's a bit like Jack the Ripper offering to perform an appendectomy.
For "ferret," read "weasel," and it's all part of the overall entertainment industry game plan to deal with slumping sales by hauling file sharers into court and getting their children at the grammar-school level.
Spreading the Word
"Thousands of kids nationwide are expected to log on to www.playitcybersafe.com to vote for one of five ferret names by the end of the month," said the sleezy BSA propaganda project, which went online on September 1.
"We hope that naming the ferret and creating a comic book curriculum that focuses on respecting digital copyrighted works will be a fun way to remind kids and educators about the importance of learning and practicing good cyber ethics," said Diane Smiroldo, BSA's public affairs VP, sanctimoniously.
The storyline features the BSA weasel as the "Copyright Crusader" and "is designed to educate children about the importance of protecting and respecting copyrighted works such as software, music, games and movies," she continued.
"The comic book and companion teacher's guide will be mailed nationwide to fourth grade teachers who subscribe to Weekly Reader [whether they ask for them or not] and will be available for free download at www.playitcybersafe.com. Recent research underscores the need to continue to educate our young people about the importance of cyber ethics and respect for intellectual property."
The "recent research" refers to one of the many Harris Interactive polls commissioned by BSA to prove that black is white.
Since its initial distribution in 2002, the "curriculum" has reached more than 13 million kids, parents and teachers, says the BSA, which boasts Microsoft as one of its principal members.
Like It or Not
Translated, "reached" means, "No one asked for this, or wanted it, but they got it anyway."
How many parents were consulted as to whether or not they want their kids to be on the receiving end? Not many, you can be sure.
But the MPAA beat the BSA with Junior Achievement, carrying the major movie studios' message to children in grades five to nine via "volunteer" teachers.
Boston Globe writer Kathleen Sharp pointed out in a story in April:
"Junior Achievement volunteers debuted the industry's program in California classrooms. One volunteer, Steve Dolcemaschio, an executive with E! Entertainment Television (jointly owned by Comcast Corp., The Walt Disney Co., and Liberty Media Corp.) worked with Diedre Ndiaye, who teaches speech and drama to sixth- through eighth-grade students at Markham Middle School in the Watts neighborhood of Los Angeles. Many children in the class indicated they had never downloaded anything before.
"The volunteer and the teacher worked from a 25-page classroom guide to explain the concept of using a computer to download files, which they called 'morally and ethically wrong.' The students played roles such as 'The Film Producer,' 'The Starving Artist,' and were asked questions such as 'Has anyone ever copied your homework? How did this make you feel?'
"By the end of one session, the teacher asked one boy: 'Will you stop copying music online and download the right way?' and 'Yes,' he answered. 'I'll go to the music store and buy more CDs.' Students learn to repeat the program's motto: 'If you don't pay for it, you've stolen it.'"
Something Like That
Also in April, the FBI, acting for the entertainment industry, raided schools in Arizona looking for "pirate" contraband in the shape of music and movie files.
Sharp winds up with a comment from Darrell Luzzo, senior VP of Junior Achievement who defends the industry's antipiracy program by saying the idea is to encourage student debate.
"We are learning ways to enhance classroom discussions," Luzzo said.
---
Jon Newton
, a TechNewsWorld columnist, founded and runs
p2pnet.net
, a daily peer-to-peer and digital media news site focused on issues surrounding file-sharing, the entertainment industry and distributed computing. p2pnet is based in Canada where sharing music online is legal.
---