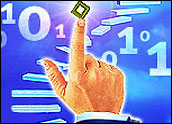 Worldwide semiconductor revenue will total US$235 billion in 2005, a 6.9 percent increase from 2004, according to the latest Gartner Group data. This will be the first time that the semiconductor industry has surpassed the previous record-setting year in 2000 when revenue reached $223 billion.
"Strong growth in the NAND flash market was a recurring theme in the 2005 market share rankings," said Andrew Norwood, research vice president at Gartner. Norwood said a combination of a strong demand for flash card and USB drives and the successful launches of the iPod shuffle and iPod nano drove this device market to its highest-ever revenue performance.
Driving the Growth
Gartner analysts said the performance of most semiconductor vendors this year can be traced to three major trends running through the industry: the participation in high-growth device markets such as NAND flash, gaining share in existing markets, or exposure to original equipment manufacturers that have been winning or losing share.
"The first two trends are in the hands of the management of the vendor to set a clear strategy to take advantage of new opportunities, or to improve performance and to execute that strategy without distraction from everyday events," Norwood said.
"The third trend, being aligned with successful OEMs, is much more difficult to achieve. In an industry increasingly being driven by consumer trends and fads, this volatility in the success of equipment vendors is only going to get more extreme. The only approach a vendor can take is to make sure that it is not overexposed to one particular OEM or market."
NAND Outlooks
Michelle Cowan, a data analyst for Current Analysis, told TechNewsWorld that there is a huge continuous growth potential for the NAND flash market — if availability is a non-issue. That, she said, is a big provision. Nonetheless, there are plenty of NAND drivers beyond the USBs.
"Digital audio is going to be a huge upcoming driver for NAND flash market," Cowan said. "The benefit of increased stability over hard drives is one of the biggest advantages that NAND flash has over upcoming storage, especially when it comes to portable devices that you are going to be carting around."
Cowan said there are certainly some other upcoming technologies, like perpendicular recording, that make hard drive technology as storage more competitive. But, she added, falling flash prices promise to make NAND even more popular in consumer electronics.
"We are seeing NAND now being used as recording medium for video devices a lot more frequently. Panasonic's SDR-S100 digital camcorder is entirely flash-based," Cowan said. "The video market is smaller, but it's still a definite driver and a sign that consumer electronics devices overall are going to be shipping with NAND."
Intel Remains Top Dog
Intel remained the first-ranked vendor in 2005 with 14.3 percent revenue growth that doubled the market average. The previous three years saw Intel's growth rate dip below the market average, according to Gartner data.
Intel's core microprocessor business performed in line with the overall company, with revenue from the desk-based CPU market showing positive growth, while mobile-based components experienced much stronger revenue growth driven by increasing shipments of mobile PCs.
Hynix Makes its Move
Samsung Electronics continued to gain share, accounting for 7.6 percent of the market. Samsung now dominates most areas of the memory market, holding the top position in DRAM, SRAM and the fast-growing NAND flash market, according to Gartner.
Hynix Semiconductor moved into the top 10 for the first time in 2005. In the NAND flash segment, Hynix's revenue is likely to reach $1.5 billion, up from $212 million in 2004, an increase of more than 600 percent.
"This success is made more satisfying for Hynix given the financial struggles the company has endured over the last few years," Norwood said.
Philips Loses Rank
One vendor missing from the top 10 this year is Philips Semiconductor, which held the ninth position in 2004. The Dutch company was pushed out of Gartner's top 10 for only the fifth time in the last 25 years.
"All these years have one thing in common; they were all boom years for the DRAM market, with this year being a boom year for NAND," Mr. Norwood said. "Philips has always kept away from the highly volatile memory market."
Gartner said there is hope for Philips and Freescale Semiconductor, the other vendor to be pushed out of the top 10, to re-enter next year. Two existing companies in the top 10, Infineon Technologies and Advanced Micro Devices (including Spansion), plan an IPO of their memory operations in the next 12 months. In both cases, Gartner said this would result in smaller vendors placed outside the top 10, allowing Freescale and Philips to reenter by default.
Drilling Into the Numbers
While market share results provide a good indication of which vendors did well or poorly during a year, it does not tell the whole story. Often, the performance of a vendor is based on the results of the overall segment growth of the device area that the vendor participates in.
Gartner's relative industry performance (RIP) index measures the difference between industry-specific growth for a company and actual growth, showing which are transforming their businesses by growing share or moving into new markets and choosing their customers wisely. Hynix achieved the best RIP ranking by outgrowing its market by 23.4 percent.
"The South Korean memory vendor accomplished this by moving into the fastest-growing memory market of all time — NAND flash," Norwood said. "In 2004, Hynix had just three percent of the NAND flash market, but it is likely to see that share increase five-fold to approach fifteen percent during 2005."
Two other vendors in the wider top 25 rankings outgrow their industry-specific markets by more than 10 percent. Elpida Memory and Advanced Micro Devices (including Spansion) have gained share in their existing markets.
Underperforming Players
Not all vendors did so well, as NEC Electronics and Infineon Technologies underperformed their respective markets by more than 10 percent and were placed at the bottom of the RIP ranking of top 25 vendors.
Gartner said NEC Electronics suffered from intense competition in mobile phone and data processing markets, as well as a more fundamental lack of strategic direction. Infineon's poor performance was due to falling revenue in the communications market because of a decline in demand for its products from struggling BenQ Mobile, which acquired Siemens' mobile phone arm during 2005, according to Gartner.
While the industry has reached new levels in revenue, Gartner analysts said major risks still exist for vendors. "Semiconductor manufacturers need to watch the performance of their end customers ever more closely as a major part of the industry becomes increasingly tied to consumer spending patterns," Norwood said. "The loss of market share in an end application, such as mobile phones, by a vendor customer can have a dramatic effect on the semiconductor vendor's business."