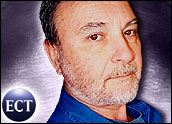 A massive new multi-million-dollar anti-DVD piracy campaign riding on the back of the UK premier of "Spider-Man 2" seeks to make a questionable link between illegal file sharing and organized crime, triads and terrorists.
The aim of the campaign by Federation Against Copyright Theft (FACT) is to "make consumers aware that pirated copies of movies sold on the black market before the legal DVD release are invariably a rip-off," FACT said in a press release.
On the other side of the pond, the Motion Picture Association of America (MPAA) regularly spends millions of dollars to fight the problem by claiming file sharers are causing movie industry employees terrible hardship and are responsible for tremendous financial losses and all kinds of crime.
Doubtful 'Facts'
The mainstream media faithfully report this, somehow ignoring the fact that U.S. box office takings remain enormous and are growing, passing the US$1billion mark for the first time in June.
In its statement, FACT also says, "90 percent of all pirate pre-release DVDs seized by FACT this year were copies of movies filmed with a camcorder from the back of the cinema."
This latest effort doesn't explain how a file downloaded equals a sale lost. Nor does it mention the AT&T Labs report that attributed much of the blame on "insiders" rather than file sharers. Of a total of 285 movies sampled, 77 percent were leaked by industry insiders, the report says.
In a recent example of that problem, Mel Gibson's movie company, Icon, sued a Hollywood post-production company claiming bad security allowed three employees to copy "The Passion of Christ."
Steamrolling the Little Guy
There was a massive outcry when "Last Samurai" and other hot movies started turning up online. File sharers with camcorders were tagged as the villains. However, "Technicolor technicians determined that copies of such pirated movies as Warners' 'Samurai' and 'Mystic,' 20th Century Fox's 'Master and Commander: The Far Side of the World,' Fox Searchlight's 'Thirteen' and Buena Vista's 'Calendar Girls' all could betraced to Academy screeners," Carmine Caridi, a 22-year member of the Academy of MotionPicture Arts & Sciences, said.
Certainly, organized criminals selling counterfeits, duplicates and cracked software on world black markets are making heavy inroads into corporate profits. However, in its quest to gain control of what peopledo online, the entertainment industry has been at pains to accuse mom-and-pop file sharers of true criminal activities, and there's a very real danger that innocent men, women and children will be swept up, as has happened with Big Music's sue-'em-all project.
Backed by a trust with members such as Twentieth Century Fox, BBC Worldwide Limited, Columbia Tristar, MGM, Virgin and Warner, FACT is also asking members of the public to act as industry police by using a hotline to report people they think might be using camcorders.Could this be shades of America's ART Act?
The campaign also is attempting to achieve the same kind of spurious connections between file sharers and terrorists, drug pushers and Chinese snakehead gangs trafficking in human victims.
"One kilo of pirated discs is worth more than one kilo of cannabis resin," one statement says.
"It is widely reported by enforcement agencies and FACT that triads and snakehead gangs are involved in forcing illegal immigrants from mainland China to sell pirate DVDs in the street, offices, pubs and even ondoorsteps of people's homes, in return for food and accommodation and to pay for their passage into the country," another statement says.
"It is well known among enforcement agencies that terrorist groups use DVD piracy to fund their activities," according to a third statement.
"Actions brought by the film industry anti-piracy body, the Federation Against Copyright Theft (FACT), against pirate DVD Web sites for the first quarter in 2004 are already at a similar level to that recorded for the whole of 2003," according to the FACT statement. "The value of the black market in DVD trade is estimated at between 400 to 500 million [US$741 to US$927 million] and is expected to exceed 1 billion [US$1.85 billion] within three years."
What's that as a percentage of the more than US$1 billion Hollywood had pulled in this year through June?
Manipulation Rampant
The entertainment industry routinely manipulates governments and enforcement agencies and, in this new attack, brags of its role as a pseudo police force, implying that it's being supplied with information by the FBI, and that UK police agencies are working with it.
"As a result of leads from the FBI, FACT was involved in an investigation into an organized crime group with bases in Northern Ireland, Sheffield and Manchester," FACT says in its statement.
Yet an Oberholzer-Gee and Strumpf paper found file sharing has no measurable effect on music sales, and the same no doubt applies to movies.
The industry could be using the Internet to market and distribute movies, music and software online at very little cost. This would dramatically cut down on the amount of physical product available, slash overhead andbring alienated consumers back into the fold.
That would not eliminate piracy, but it would significantly reduce it.
File sharing is here to stay, and all this kind of campaign will do is further blacken the entertainment industry's name and cause misery to a lot of teen-agers and their parents.
---
Jon Newton
, a TechNewsWorld columnist, founded and runs
p2pnet.net
, a daily peer-to-peer and digital media news site focused on issues surrounding file-sharing, the entertainment industry and distributed computing. p2pnet is based in Canada where sharing music online is legal.
---