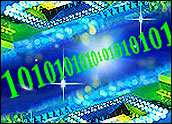 New wireless video processing chipsets that let consumers capture, store and transfer video between various display devices in the home — TVs or PCs — debuted at the Consumer Electronics Show in Las Vegas this week. The chips were developed by ViXS Systems, a Toronto-based developer of video processing technologies, in partnership with Sony and other leading electronics manufacturers.
"It is easy to wirelessly send video across the house or across the world," Dan Album, a spokesperson for ViXS, told TechNewsWorld.
Combination of Technologies
A combination of technologies, including the ViXS' XCode video processor and Matrix II wireless baseband processor, allow for users to capture, store and transfer video between various display devices.
ViXS is working with original equipment manufacturer (OEM) partners, including Sony, Hitachi, Philips and Funai, to address several trends in the consumer electronics market:
the increasing desire by consumers to record, archive and play back high-quality video content on a wide range of in-home and portable devices using a variety of video formats;
the need for much simpler, less time-consuming solutions for encoding content for different devices; and
the increasing use of home networks, particularly wireless networks, to share and access content.
"Today's consumer has access to numerous video sources, including over-the-air broadcasts, cable and satellite, camcorders, DVDs and the Internet," said Sally Daub, president and CEO of ViXS Systems. "Our technology gives consumers greater flexibility and control over their content — enabling them to quickly burn content to DVD, store it on hard drives or send it to another display device — without being overwhelmed by the complexity of the underlying processes."
New Breed
The "new breed" of consumer electronics and PC-based products made possible by the technology fusion include the following:
PC-TV Tuners and Media PCs: For PC systems running Microsoft Windows Media Center Edition 2005, there will be TV tuner cards and media PCs from Sony, Philips, Hitachi, Avermedia, IODATA, PLX and Pixela, which use ViXS' technology to offer dual tuner capability on a single PCI-board.
Wireless TVs and Media Adapters: A new 42-inch plasma television from European consumer electronics company Profilo features an integrated wireless receiver and external wireless adapter.
Embedded Systems: ViXS uses Sony's LocationFree LF-PK1 to access content stored offsite and wirelessly stream it to a Sony PSP over the public Internet.
Multiple Streams
ViXS' XCode is the first chipset that can encode and translate multiple streams of analog and digital content — including high definition and standard definition video — at speeds of 6x to 24x real time.
Simplified video content management remains one of the consumer electronics industry's most critical challenges. The industry's wide variety of video formats, device display capabilities and other technical incompatibilities often make the recording and transfer of video a technical and time-consuming process for consumers.
At CES, ViXS will demonstrate Sony's accomplishments in overcoming these challenges by integrating advanced video processors into a broad range of consumer products.
"We are showcasing some of the market's most advanced products for the capture and distribution of video content," said Daub, president and CEO of ViXS Systems. "Through our working relationship with Sony, consumers are gaining new ways to enjoy video content and a greater geographic range from which they can access it."