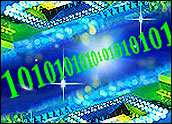 NEC on Tuesday added an interesting twist to the high-definition format battle: a semiconductor that crosses the boundaries between the competing standards.
NEC's new chipset will be compatible with both the Blu-ray (BD) disc, which is backed by Sony and Matsushita Electric, and the HD DVD disc developed by rival Toshiba, which has the support of Microsoft.
Dubbed "Scombo," the new chipset can record and replay data with both formats. NEC hopes it will spur development of computers, televisions and other electronics hardware that bridge the divide between Blu-ray and HD DVD.
A Necessary Alternative
NEC's semiconductor innovation is a necessary alternative in what is becoming a fragmented high definition DVD market, according to IC Insights analyst Brian Matus. A chipset that enables omni-format drives — and gives consumers and electronics manufacturers more options — is a positive step, he told TechNewsWorld.
"It's not good for electronics manufacturers to keep their feet in both camps," Matus argued. "It's best if there is one solution. If this NEC chip can bridge the gap and bring these competing formats together, it would be beneficial to systems manufacturers and consumers."
If not, Matus added, it could be a long battle because both formats are digging their heels in deeper with every new product announcement. He doesn't expect price to be a key factor in the decision-making process for most consumers in the long term.
"Choosing between the formats could be a difficult decision for consumers," Matus noted. "NEC has something that will provide a common ground and lower the walls of distinction between the two formats. That's a good thing."
Two Customers, One Chip
NEC's goal is to alleviate consumer concerns over choosing one format or another by paving the way for omni-format drives. However, NEC is also hoping to offer Large Scale Integration (LSI) chips at attractive prices to vendors who want to implement BD or HD DVD functions exclusively.
Scombo includes an LSI circuit that controls the DVD drive and the position of the optical pickup that reads and writes data with a blue-violet laser. In addition to Blu-ray and HD DVD, it can also process data from standard-definition DVD and CD discs.
NEC is attempting to leverage efficiencies of its new design by serving two customers with the same chipset. It can produce Scombo in volume and deliver the chipsets to omni-format drive vendors and BD or HD DVD drive vendors.
Speeding Along
The chipset reads, writes and processes data from all major disc formats at varying speeds. It can read and write data at 5X the normal speed to and from HD DVD discs and BD discs, and at 16X the speed to and front standard DVD discs. It reads and writes 48 times faster to and from CDs.
NEC has designed the chipset with the future in mind. It is compatible with future drive format updates of up to 16X speed of present DVD-RW rates. The chipset adheres to copy protection rules for optical disc software drivers, according to the company.
NEC plans to begin producing the chipset in the first quarter of 2007. The goal is to ramp up production to 300,000 units a month.