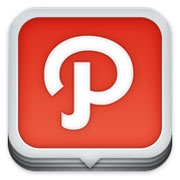 Everything about Facebook is big. A half-billion users, 700 billion minutes a month spent there. It has 900 million pages, groups and events, according to the Facebook stats page.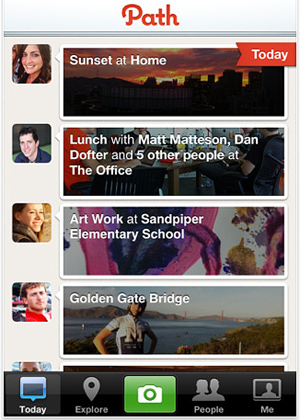 A new social networking startup, Path, is aiming the opposite direction — at least with its core functionality.
The new San Francisco-based photo-sharing service, which launched as an iPhone app on Sunday, limits users to no more than 50 friends — barely a third of the 130 friends the average Facebook user has. Path's organizers intend to make the service platform agnostic over the long term, the company said.
The reason: Despite the core premise of social networking — to share experiences– Path's founders say people don't feel comfortable sharing the most personal moments with hundreds or even thousands of people, on a fraction of whom are truly close friends.
But on Path, because one's personal network is limited to his or her 50 closest friends and family, the user can presumably feel free to post more personal moments, according to the company.
The Service
Path is headed by former Facebook employee Dave Morin, and in many ways appears to be that service's antithesis.
It doesn't do anything but share photos, at the moment at least. There are no pokes or check-ins, no wall posts for everyone to read. There's just the simple ability for one person to take a photo on a camera phone, tag it as a person, place or thing, and to share that photo with a group of friends.
Only people with whom the photo has been shared can see it, but a geo-location database of anonymized subject tags — Path uses the example of "dancing with" — are visible to anyone.
It allows users to see photos shared by friends on a map, and promises other visualizations later.
Unlike some other hot photo-sharing iPhone apps of the moment, such as Instagram, Path doesn't offer filters or modifications to photos.
Path's growth plans are a little grainy. The company is taking username registrations on its website for non-iPhone users and has advertised on Twitter for an Android developer, but it's unclear if or when the company intends to offer different forms of sharing going forward.
The 50-User Limit
The limit was devised based on research by Oxford University Professor Robin Dunbar into social relationships. Dunbar's research, Path said, suggested that 150 is the human limit for social relationships at any one time, with around 50 as the outer boundary of close personal relations.
But Lon S. Safko, a social media expert, said he doesn't think
However, social networking users may not cotton to such a service just because it purports to limit oversharing, according to Lon S. Safko, a social media consultant.
"Exclusivity isn't worth the time any more," he said. "You can already control your groups in Twitter and on Facebook. There's no added value."
That it's limited to photos is another strike, he said.
Many people actually like having large social networking groups, giving many people the 15 minutes of fame they crave. "People are voyeurs at heart," he said. "The more people they add, the more lives they can look at."