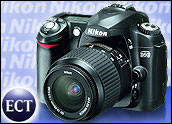 Nikon on Wednesday said it would stop making most of its film camera products in favor of its digital line.
Nikon's digital lineup has become an increasingly successful part of its business over the past seven years. In fact, digital cameras make up more than 95 percent of Nikon's UK business.
"Nikon Corporation has made the decision to focus management resources on digital cameras in place of film cameras. This decision will allow Nikon to continue to develop products that match the demands of an increasingly competitive marketplace," the company said in a statement.
Market Success
Despite the growing competition, Nikon has continued to outperform the market. The company recently reported positive financial results that saw group net profit climb by 20 percent in the fiscal first half ended in September 2005.
Sales of high-end digital SLR cameras and the success of products like the D70s and D50 have helped contribute to these positive figures.
As the film camera market shrinks and the popularity of compact digital cameras increases, demand for products that offer advanced features and extra value continues to grow.
Nikon said high performance digital SLR cameras are performing well as users shift from film-based SLR cameras or upgrade from compact digital cameras to digital SLR cameras.
Discontinuing Lenses
As part of its new strategy Nikon said it would discontinue production of all lenses for large format cameras and enlarging lenses. Sales of these products will cease as soon as they run out of stock.
This also applies to most of the Japanese company's film camera bodies, interchangeable manual focus lenses and related accessories. However, Nikon anticipates that the products will still be in retail distribution up to Summer 2006.
In recognition of Nikon's commitment to professional photographers, Nikon said it would continue to manufacturer and sell the F6, its flagship film model, as well as a number of manual interchangeable lenses. Sales of the manual FM10 will also continue outside Europe.
No Surprise
Nikon's decision comes as no surprise to industry analysts, who have been predicting the fall of the film camera for years.
Paul Worthington, an analyst at photography industry research firm Future Image, Inc., told TechNewsWorld Nikon's decision was "completely inevitable."
"Just like man bites dog would be the real news, in this case Nikon saying that they would maintain their commitment to film for some reason would be news," Worthington said.
"The general consumer has voted with their wallet. They are buying digital cameras. If the general consumer were still buying film cameras, Nikon would keep making them."
Good News for Printing Business?
Could this be good news for HP, Epson and others in the digital photo-printer business?
There is an ongoing debate about the digital revolution's impact on this area. Some believe that, since consumers do not need to view, share or archive pictures in hard copy, they won't print them. Others argue that since it's much easier and affordable to make prints, people will make more of them.
"As everybody takes hundreds of photos, the opportunity for prints increases," Worthington said.