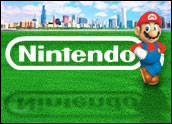 A braggingNintendo has declared an early victory over rival Sony in the video console wars.
Of the more than 600,000 Nintendo Wii systems sold in the Americas since Nov. 19, 400,000 were sold in the U.S. — at a rate of nearly one unit sold per second since its launch.
Including just first-party software and accessorysales, Wii instantly has become a US$190 million business in the Americas. The demand is outstripping the supply, as evidenced by the many overpriced Wii consoles currently selling on eBay.
"Even with sales already in excess of 600,000 units, demand continues to exceed supply as it's clear this is one of the 'gotta-have' products for the holiday season," says Nintendo of America President Reggie Fils-Aime. "We've shipped retailers several times the amount of hardware the other company was able to deliver for its launch around the same time — and we still sold out."
Target or Marketing?
Nintendo claimed success based on astrategy that attracts players who might not normally purchase a video game console. However, the combination of a smooth supply chain process and a multimillion dollar marketing campaign may have done the trick.
Nintendo has experienced few manufacturing issues with the Wii. "It's no surprise to me that [the company] shipped a large number of consoles or that they are selling," Brian O'Rourke, a senior analyst with In-Stat Group, told TechNewsWorld.
Sales of the PlayStation 3 (PS3) were hampered when Sony encountered manufacturing difficulties related to the console's built-in Blu-ray DVD technology. As a result, Sony is paying the price and will miss out on a lot of action during the industry's fourth quarter, which is when most video game consoles are sold.
Nintendo plans to ship 4 million Wii units in the U.S. and Canada by the end of the year, while Sony's target is a mere 1 million.
Microsoft's Boon
Microsoft's Xbox 360 is leading the three-dog pack, O'Rourke said, adding that it has been on the shelves for more than a year and is in healthy demand this season.
"Microsoft has gotten good at manufacturing the Xbox 360, and they have a lot of them on the shelves this year. If people go to get a PS3 and there are no PS3s available, they might very well buy an Xbox 360. It gives Microsoft that much more of a head start on the competition," O'Rourke said.
Game Time
Despite the good news for Microsoft, Nintendo has an opportunity to outpace Sony after losing its console crown some years ago. To help its cause, Nintendo is pushing some new game titles.
For example, "The Legend of Zelda: Twilight Princess" has sold more than 454,000 units in the Americas, a number that is equivalent to more than 75 percent of all hardware purchasers.
Classic games also are proving to be a hit on the Wii, which lets users download many Nintendo, Sega Genesis and TurboGrafx16 games via the system's Virtual Console feature, the company said.
The PS3 sells for $500 and $600, depending on the model, and the Xbox 360 sells for $350. When the holiday hubbub is over and the console sales figures come out, Nintendo's $250 price point may prove to be an advantage over the competition throughout the coming year.