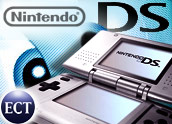 Two all-beef patties, special sauce, lettuce, cheese, pickles, onions on a sesame seed bun are some of what you'd expect from a trip to McDonald's. Now, fast food diners can also expect to play some of their favorite video games at the leading burger chain's restaurants.
Nintendo has signed an agreement with WiFi provider Wayport to install high-speed Internet access in public locations. The goal is to extend WiFi service to Nintendo DS users. The video game maker figured it could reach a good percentage of its target audience at nearly 6,000 McDonald's restaurants across the United States.
Through its agreement with Wayport, Nintendo will offer complimentary access to Nintendo WiFi Connection, the video game giant's new wireless gaming service that goes online November 14.
"This agreement with Wayport will bring countless people together to play games in a single, simultaneous wireless community," says Reggie Fils-Aime, Nintendo of America's executive vice president of sales & marketing. "Nintendo Wi-Fi Connection is simple to use. Beginning with free access at participating McDonald's, we have removed one of the major barriers that have kept people from going online to play games."
French Fries and WiFi
Nintendo said the WiFi Connection creates a community where gamers can log on wirelessly and begin playing favorite franchise games like Mario Kart DS and Activision's Tony Hawk's American SK8Land.
Game play will be free, and users will be able to connect to Nintendo WiFi Connection in a variety of ways. For example, when a user brings a Nintendo DS unit and a Wi-Fi-enabled game into a Wayport-enabled McDonald's, the user can launch the game in Nintendo WiFi Connection mode with no required set up.
Yankee Group senior analyst Mike Goodman told TechNewsWorld that the partnership makes sense, given Nintendo's target market and the likelihood that this demographic would frequent a restaurant like McDonald's.
"The obvious glitch is always the quality of the service, especially if you are depending on someone else to provide the service," Goodman said. "If the service is poor, it reflects on Nintendo and McDonald's. Fundamentally, that's the biggest risk."
Gaming to Go
Nintendo's WiFi Connection is not limited to McDonald's. For those customers who want to take their fries to go, or who prefer to cook at home, users can connect the Nintendo DS unit directly into their home-based WiFi network.
Nintendo said those who have a high-speed Internet connection such as cable or DSL, but no wireless network, can use the Nintendo WiFi USB Connector, which will plug into the USB port of a PC running Windows XP to create a wireless access point to connect a DS to Nintendo WiFi Connection. The Nintendo WiFi USB Connector will be sold exclusively on Nintendo.com.
Made to Order
Nintendo DS owners who want to play games at WiFi locations outside McDonald's or their home can use a laptop computer and the Nintendo WiFi USB Connector to access Nintendo WiFi Connection.
The Nintendo WiFi USB Connector enables the Nintendo DS to share an Internet connection established by a PC, providing a conduit to play games via Nintendo WiFiConnection.
Goodman said the wireless play is critical to Nintendo maintaining its dominance in the video game industry. Sony raised the bar with a PSP that features wireless capabilities and Nintendo is responding with a DS push.
"This is a case of keeping up with the Jonses," Goodman said. "Both parties are involved in a game of technical one-upmanship. They continue to improve and offer new services for their games. Nintendo realizes it made a mistake with the lack of online play with its GameCube. It can't afford to fall behind the curve with DS. It's too important."