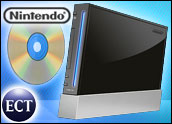 Nintendo on Thursday said it will launch its newest video game console in the United States on Nov. 19, just in time for the lucrative holiday shopping season. The console is set to debut in Japan a few weeks later, on Dec. 2.
The firm's Wii system will come to market as the most affordable among the next-generation gaming consoles from the Big Three players: Nintendo, Microsoft and Sony. With a price tag of US$250, the Wii comes in at about $100 less than Sony's PlayStation 3 and $150 less than Microsoft's Xbox 360.
Game Developers Show Support
Between launch day and Dec. 31, Wii owners will be able to select from 30 software titles, the company said. Some top Nintendo launch titles include "Wii Sports," a compilation of tennis, baseball, golf, bowling and boxing, "The Legend of Zelda: Twilight Princes" and "Excite Truck." The games will retail for $50.
Wii's media bay also can play the entire library of more than 530 Nintendo GameCube titles. Users can redeem Wii Points and download classic games to Wii's Virtual Console. Third-party game developers are showing their support for the new hardware.
"I believe the Wii will attract new and casual gamers to the world of interactive entertainment," said Larry Probst, chairman and CEO, Electronic Arts. "It's a fun, easy and economical system that will become a bridge to gaming for mainstream audiences. At EA, we are putting more support behind the Wii than any Nintendo hardware launch since the Super NES."
Changing Audience Interaction
The Wii is changing audience interaction, opening up whole new experiences that have never before been possible in video games, according to Robert Kotick, chairman and CEO of Activision.
"We plan to have five titles available at launch — our strongest lineup ever for a new console," Kotick said.
Kotick is among those who believe that Wii could have a profound impact on the size and growth of the overall video game market. Activision is acting accordingly, devoting more development resources to the Wii than to any previous Nintendo platform, he said.
Cutting-Edge Controller
Wii is creating a buzz with its unique control system, an inventive, first-of-its-kind controller whose position can be detected in a three-dimensional space. The new controller allows users to pinpoint targets in games or move through the Wii Channel Menu.
The controller is designed to make it easy for amateur gamers to get involved. In the Wii Sports tennis game, for instance, players swing the Wii controller like a racket to hit the ball. They can add topspin or slice the ball just by angling their hands and wrists like they would in a real match.
"The Wii control scheme is the most radical change in gaming in the past six years," Brian O'Rourke, a senior analyst at In-Stat, told TechNewsWorld. "It's radical. It's risky as well, but there has been a positive reaction to it. This console is priced substantially less than the competition. This is big news for Nintendo."