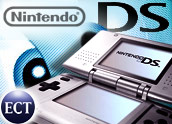 In a move to appeal to a wider audience, Nintendo is rebranding a portion of its line of handheld gaming titles.
The video game giant on Tuesday said it will begin branding its more casual Nintendo DS titles under the new Touch Generations label beginning in June. Touch Generations will be one element of Nintendo's multimillion-dollar campaign to get more and more people interested in video games.
The Touch Generations brand will include titles that anyone can pick up and play, even with little or no experience with video games. Nintendo is hoping to make it easy for new demographics to be able to play video games. Three new games, including a new brain-training game, will be added to the Touch Generations category.
"We remain committed to turning video games into an inclusive mass medium that everyone can enjoy," said George Harrison, Nintendo of America's senior vice president of marketing and corporate communications. "Touch Generations will help novices and newcomers identify the fun and uniquely engaging experiences that are available only on Nintendo DS."
A Distinctive Logo
Current and upcoming Touch Generations games will be identified by a distinctive logo, Nintendo said, and will help inexperienced and casual gamers quickly identify which games might be appropriate for them.
"It will be interesting to see whether Nintendo will utilize the Nintendo master [brand] as a primary design execution or if the two brands will be equal on the packaging, or if it will go with an endorsement strategy with Touch Generations as the primary," said Chris Nikides, general counsel of The Brand Institute.
Procter & Gamble employs a non-endorsement strategy that has worked well in the consumer products business, Nikides noted. The company manufactures Luvs and Pampers, but doesn't plaster its brand name on either package. Instead, its brand can be found in small print where the manufacturer information is posted.
"Procter has set its entire company up as independent brands to operate on its own and to identify needs as it continues to explore new franchises and new areas of audience participation. The downside risk of hurting the current franchise is very minimal if it is not a primary brand," Nikides told TechNewsWorld.
The upside, by contrast, is potentially lucrative. If Nintendo can get housewives, grandparents and others who would not typically pick up a video game title to make purchases, it could increase revenues exponentially.
Cross-Appeal Titles
"Big Brain Academy" will be among the first seven titles in the Touch Generations lineup. This, the second title in Nintendo's brain-training series, tests players in five areas: thinking, memorization, computation, analysis and identification.
Another offering, "Magnetica," is a simple puzzle game that challenges players to connect and eliminate like-colored marbles before they reach the goal. "Sudoku Gridmaster" features more than 400 Sudoku puzzles, all of which were hand-picked by the original creators of Sudoku.
The Touch Generations line also will include selected titles that have already been released, such as "Brain Age." More than 5 million people around the world test their brains daily in areas like math, counting, reading and memorization. Many purchasers include older people who had never previously played a video game, according to Nintendo.
Proof Positive?
"Nintendogs," a puppy simulation and communication program, lets users pet their virtual pups using the touch screen and teach them commands using the microphone. The classic "Tetris DS" features Nintendo's greatest characters teaming up with one of the most popular puzzle games of all time. Finally, "True Swing Golf" lets players slide the stylus across the touch screen to strike the ball and send it flying.
Nintendo figures it won't lose anything with its loyal audience by taking the rebranding risk. The company points to positive reviews that gaming-focused media have given to many of its titles as evidence that Touch Generations games can be enjoyed by hard-core and novice gamers alike. Nintendo is betting that as it adds new titles to the Touch Generations category, the two groups will be able to identify their common ground.