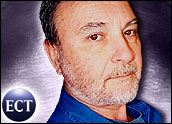 It's deja vu all over again. Napster 2 in Europe reloaded as the mainstream media players fell over each other to carry Big Music's message that the joyless online music stores it supplies and backs are all there is to online music. Only this time, instead of Napster 2, it's Apple's iTunes.
Not to be outdone, Sony has arranged things so "product" from the Big Five labels will be dished up with "product" from McDonald's. Starting today in Canada, the U.S. and Puerto Rico and, as of next month, in Europe, if you buy a Big Mac Extra Value Meal, you'll get a coupon code for a free download from Sony's coming Sony Connect music service.
Plastic music with plastic food. Yum.
Maybe Samuel Goldwyn films will also start giving out free passes to Super Size Me, a movie about Morgan Spurlock's 30 days of eating nothing but food from McDonald's, "an experiment in bad living that frames a jaunty critique of junk gastronomy and corporate power," as the New York Times put it in a review.
Nickelback and Chart Attack
Be that as it may, in Canada the Big Mac attack was heralded by Big Music site Chart Attack with the following: "Apparently the kids are still downloading music. Apparently they'd still rather do it for free as opposed to paying. Apparently that's still bad, and Chad Kroeger is not lovin' it at all."
That's how it kicks off a piece on the fact that Kroeger — "Nickelback frontman and 604 Records executive" — has "shaken the big yellow glove of that red-haired harlequin known as Ronald to become the Canadian spokesman for the new McDonalds Big Mac Meal Tracks promotion."
In case you don't know who, or what, Nickelback is, it's a big-time formula band. And Chart Attack is, in turn, a formula music industry site with intimate knowledge of the downloading public.
As an example, Chart Attack said recently regarding prepaid cards for use in conjunction with download sites: "[…] as record companies will readily inform you, the majority of illegal downloaders are young teens who, unless they're spoiled little brats who get their own car for their 16th birthday, have no access to a credit card to access most legal download sites. Is it really a surprise that these young people, who are either not working at all or have some low-paying retail job, are not rushing out to pay what they do make on music they can take for free?"
Access to Credit Cards
On the Big Mac promo, Chart Attack said, "As if the delicious burger and convenient cardboard flip-box that your Big Mac comes in wasn't treat enough, now you'll also receive an access code with each sandwich or, for the more gluttonous of us, Extra Value Meal. Then, through a partnership with Sony and Puretracks, you'll be able to log on to a Web site that will allow you to download one song absolutely free."
"Wearing a really cool-looking tan leather jacket," said Chart Attack, Kroeger gave his thoughts on file-sharing and file-sharers. And those prepaid cards came up again. "If trends continue the way they are, there isn't going to be any new music for people to download," he's quoted as saying.
And the report goes on: "While Kroeger admitted that it was difficult for younger people to have access to credit cards for the legal download sites, he claimed the problem ran deeper than simple economics. 'Young people don't think,' says Kroeger with more than a hint of anger in his voice. 'I'd be surprised if young people know what the hell Sam The Record Man or HMV was. Everyone just goes to the computer, downloads whatever the hell they want, they burn it and then they just play it in their cars. That's killing the music industry.'"
"Kroeger sees the McDonalds/Sony initiative as being a positive step to help the music industry and those musicians hurt by rampant illegal downloads," adds Chart Attack.
However, All Is Not Lost
In the meantime, the Canadian Musical Reproduction Rights Agency (CMRRA) is doing its bit to save Canadian musicians from destitution. It and Quebec's SODRAC (Socit du droit de reproduction des auteurs, compositeurs et diteurs au Canada) have filed a joint tariff application with the Copyright Board of Canada.
Calling this latest effort to help Big Music turn Canada into a U.S.-type controlled outlet a way "to protect the rights of songwriters," CMRRA already has agreements with Puretracks and Archambault, not to speak of Roxio's desperately struggling Napster 2, and "online music delivery company" MusicNet.
The Big Five record labels write their own ticket in the U.S. and clearly plan on being able to do the same in Canada, using their immense financial and political power to pressure the Canadian government into making file sharing illegal.
There's a whole raft of online music stores selling the same stuff at more or less the same overblown prices. And they're all supplied by the Big Five labels to whom competition is an extremely nasty word representing, as it does, a concept that terrifies them. The sites they support and supply carry the same tired 500,000 to 700,000 tracks at the same tired prices from the same tired labels.
It's like a bunch of grocers all selling potatoes from one farmer's crop at the same prices.
CMRRA says the joint tariff application is aimed at setting a fair royalty rate for songwriters and music publishers for online music sales.
The Bottom Line
"It is in everybody's best interest to get the licensed commercial services up and running, and we didn't want to hold up the process," said CMRAA president David Basskin. "Everybody" is the likes of Tragically Hip and Barenaked Ladies, not to speak of the Big Five labels themselves, none of whom are based in Canada.
The rate determined by the Copyright Board will apply to 2005 to 2007, said CMRRA, adding that it's "suggested to all parties involved that, instead of going to arbitration, this rate should be voluntarily extended to retroactively cover the current OLA, which expires at the end of the year."
But it's all about Organized Music's bottom line — no matter how much it's dressed up to look like something else. The Recording Industry Association of America has Nashville songwriter Stephony Smith quoting Canadian star Joni Mitchell on file-sharing: "You don't know what you've got till it's gone."
She also said this of Big Music: "I hope it all goes down the crapper. It's top-heavy, it's wasteful. It's an insane business. Now, this is all calculated music. It's calculated for sales, it's sonically calculated, it's rudely calculated. I'm ashamed to be a part of the music business. You know, I just think it's a cesspool."
---
Jon Newton
, a TechNewsWorld columnist, founded and runs
p2pnet.net
, a daily peer-to-peer and digital media news site focused on issues surrounding file-sharing, the entertainment industry and distributed computing. p2pnet is based in Canada where sharing music online is legal.
---