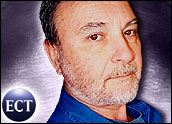 Big Music's claim that its sue 'em all campaign is driving people away from sharing files over the P2P networks has once again been seriously questioned.
The latest figures from P2P network research specialists Big Champagne show strong increases in use of popular file sharing nets in the U.S. and globally, despite the fact that last month, the record label cartel brought the number of people it's threatening to sue to almost 7,000.
The average number of people simultaneously logged on to the P2P file sharing networks at any given moment increased from 6,255,986 in October to 7,452,184 in November.
Over the same period the number of users on P2P networks in the U.S. went from 4,435,395 to 5,445,275.
"While these increases are consistent with the trend we've observed in Q4 in previous years, strong growth in the U.S.A. in particular has yielded an active logged-on P2P user base that's more than one-third greater than it was in the fourth quarter of last year," CEO Eric Garland told me.
Movies Follow
Only days after the seven major movie studios decided to mimic the cartel's attempts to sue people into buying product, the cartel members announced that the RIAA (Recording Industry Association of America) was going after another 761 ordinary U.S. citizens.
To date, none of the 6,952 men, women and children sued under civil law by the music industry behemoth have appeared in court. They always accept its offer to settle. They have no choice. They simply don't have the financial or legal resources to stand up to Big Music, although many would like to.
This means no case has yet been tried and proven. Nonetheless, the multi-billion-dollar cartel implies that it has successfully sued thousands of people for allegedly infringing music copyrights.
In the process, the principle "innocent until proven guilty" goes by the board.
The music industry claims that the presence of MP3s on P2P networks is robbing them of sales, backing this up with equally disingenuous assertions that campuses are among the worst offenders.
Universities Sign On
This has enabled them to blackmail schools by threatening potentially costly civil suits unless the students buy from over-priced services such as Napster II.
As a recent USA Today story states, "Some of the biggest and most prestigious schools offer digital music service to their students."
In the story, Tom Warner, director of coordinated technology management at the University of North Carolina, is quoted as saying, "What we hear from our students is, 'We don't want to be sued.'"
In charge of suing them is the RIAA, whose president, Cary Sherman, said recently: "The lawsuits are an essential educational tool. They remind music fans about the law and provide incentives to university administrators to offer legal alternatives."
He also said, "College students are some of most avid music fans. The music habits and customs they develop now are now are likely to stay with them for life."
P2P services aren't illegal. And surely the responsibility of educators is to educate, not to act as music industry sales reps who "teach" explanations of heavily contested copyright principles on behalf of the music industry?
Meanwhile, a recent report from Hollywood's Joint Committee of the Higher Education and Entertainment Communities (JCHEEC) — co-chaired by Sherman and Graham Spanier, president of Penn State University — boasts that at least 20 universities have signed up with corporate online music sales companies.
And while the RIAA and enforcement units in other countries chase students and other file sharers who would happily pay a fair price for downloads, the true criminals continue to get rich, making and selling fake and counterfeit product.