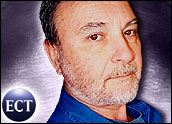 Brilliant Digital Entertainment and Altnet are still trying to come up with ways to make money out of their TrueNames DRM project.
Their latest efforts look remarkably like a phishing exercise, almost akin to those Nigerian scams in which industrious scribes send out messages meant to hook the unwary into paying for, well, nothing.
In Altnet's case, an industrious lawyer has been sending out circulars designed to hook the unwary and/or unwise into paying for, well, nothing.
'Grossly Overreaching'
It's a bizarre campaign targeting P2P operators such as BearShare, Limewire, MashBoxx and Shareaza, but also taking in relatively unknown firms such as How2Share Technologies, a small Canadian company marketing PiXPO software for a picture-sharing network, and Israel's P2M (Peer2Mail), a P2P application which allows people with Web e-mail accounts such as Gmail, Walla and Yahoo to store files on them.
Entertainment lawyer Jay Flemma, who's consulting with companies who've received the Altnet patent letter, told me, "I believe they [Altnet] are grossly overreaching in attempting to turn the world of IP into the wild, wild west and effectively mug these companies by trying to make them pay for something … which they do not have the rights to defend or prosecute."
The BDE-Altnet "marketing" circular kicks off with:
I write on behalf of Brilliant Digital Entertainment, Inc. ("BDE") and Altnet, Inc. ("Altnet"), the exclusive licensees for use in peer-to-peer computing of U.S. Patent No. 5,978,791, entitled "Data Processing System Using Substantially Unique Identifiers to Identify Data Items, Whereby Identical Data Items Have the Same Identifiers" ("the '791 Patent") and U.S. Patent No. 6,415,280 B1 entitled "Identifying and Requesting Data In Network Using Identifiers Which Are Based On Contents of Data" ("the '280 Patent") (collectively the "Data Distribution Patents").
It goes on:
Based upon our investigation, we believe that other peer-to-peer applications, including applications offered by your company, use the technology claimed in the Data Distribution Patents for identifying, accessing, and distributing data items between computers. Accordingly, we believe that your company requires a license from BDE and Altnet to continue practicing the '791 and '280 Patents with your company's peer-to-peer application.
It also says:
BDE and Altnet are willing to license your company on negotiated terms acceptable to BDE and Altnet, just as they have done with Sharman, so it can continue practicing the '791 and '280 Patents.
Sharman Link
Kazaa owner Sharman Networks is closely associated with troubled Altnet and BDE, and many believe Sharman investors also fund the two firms, which have unsuccessfully been trying to convince the major movie studios and record labels that they would make valuable business partners.
With regard to the Altnet-BDE play, MashBoxx boss Wayne Russo told me, "Well, when I stopped laughing…. What's interesting is they said their investigation shows we're utilizing their patent. Their investigators must not be very thorough because MashBoxx hasn't launched yet, so I don't see how it's possible for us to have infringed on their patent." MashBoxx is the big music-approved application that identifies copyrighted music files on a P2P network and allows copyright owners to control how they're traded, and for how much. It's about to go into beta.
Russo continued, "Frankly, I think it's some kind of b.s. move to try to bolster their case against the RIAA. And I'm starting to think the RIAA isn't taking it seriously at all. They're certainly not afraid of it, and neither is Loudeye or anybody else."
Altnet and BDE are using the same patents as the basis of a lawsuit against the Recording Industry Association of America.
Altnet will "get serious blow-back on this," warns Russo.
Trivial Technique
In 2002, Altnet CEO Kevin Bermeister bragged that TrueNames' Ron Lachman had been appointed Altnet's chief scientist. Lachman co-developed and patented TrueNames in 1994 and licensed it to Digital Island.
TrueNames "claims invention of the old and trivial technique of using strong hashes as hashtable keys," said InfoAnarchy. The bottom line is, "someone managed to persuade Altnet that the Truenames patent was worth something (one imagines that this was right after Altnet's successful purchase of London's Tower Bridge and a large selection of invisible clothing)," said Freenet's Ian Clarke.
In 2002, a U.S. federal judge granted Akamai Technologies a permanent injunction against Digital Island to stop it from running its Footprint content delivery service said NetworkWorldFusion at the time.
In a Washington Post story, Altnet lawyer Lawrence Hadley is quoted as saying a federal jury has already upheld the validity of at least one of the patents, referring to the Digital Island case.
"I think their attorney's claims in the Washington Post that a jury found that their patent was valid is woefully inaccurate because it is not a jury question — or what's called a question of fact, whether or not a patent is valid," says Flemma. "I can tell you this: Juries do not rule on the question of whether or not a patent is valid."
The Electronic Frontier Foundation ( EFF) is taking an interest in events but hasn't yet decided whether or not to become actively involved, the EFF's Jason Schultz says.
Clarke is looking for good examples of prior art, saying on a thread, "If Altnet succeeds in extorting any money out of these P2P companies, it will only serve to encourage them to attack others."
---
Jon Newton
, a TechNewsWorld columnist, founded and runs
p2pnet.net
, a daily peer-to-peer and digital media news site focused on issues surrounding file sharing, the entertainment industry and distributed computing. P2pnet is based in Canada, where sharing music online is legal.
---