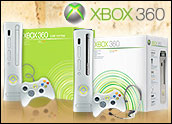 Watching the reports of video game console sales early this holiday shopping season has been like watching a thoroughbred horse race. The only problem is two of the horses are already out of the race, at least temporarily.
As anticipated,Sony's PlayStation 3 (PS3) and Nintendo's Wii sold out very quickly due to manufacturing issues — Sony sold out in minutes; Nintendo in days.
Nintendo is continuing to manufacture Wiis and expects to have some additional volume before Christmas, but Sony has exhausted its resources until after the first of the year.
Consumers desperate for these hard-to-find items are turning toInternet auctions. They are also buying rival Microsoft's Xbox 360 in droves.
Bidding for Consoles
eBay Marketplace Research reveals that the online auction giant registered sales of 14,675 PS3 consoles between its November 17 launch and last Friday, November 24.
The average price tag was US$1,186, well above the $500 to $600 suggested retail price. Meanwhile, eBay reported the $250 Wii sold 29,451 units at an average price of $428 since October 17.
Now that the initial auction buying hysteria is over, the auction prices have dropped. eBay reported that Wii prices have declined slightly to $413 since it launch, though some sellers are fetching as much as $510. The PS3 high bids now hover between $650 and $910.
"You could do a lot for a thousand bucks rather than allowing a kid to play video games. That's more than most people spend on a family vacation. So it just isn't justified," Enderle Group Principal Analyst Rob Enderle told TechNewsWorld. "A lot of folks are concluding that if they really want a PS3 they can wait until they are reasonably priced."
The Big Winner
Microsoft faced similar supply constraints when it originally launched the Xbox, but the company is sitting in the proverbial catbird seat this year as competitors struggle to get consoles to market.
There is a story behind the story, however: HD DVD versus Blu-ray.
Part of Sony's problem in manufacturing the PS3 in large quantities was a shortage of parts for its in-console Blu-ray-based DVD player. HD DVD and Blu-ray are competing formats for next-generation DVDs.
Sony's Nightmare
Sony is not only losing ground to Microsoft on the console front, but also losing ground to Microsoft and its HD DVD ally Toshiba on the DVD format war front. Suddenly, Sony is a distant third in the video game battle and a distant second in the DVD format war.
"The stand alone Blu-ray and HD DVD players aren't selling, but the Xbox accessories are selling through at a very high rate," Enderle said. "At $200, the Xbox HD DVD accessory is making the Xbox incredibly attractive compared to a $500 stand alone HD DVD player or a $1,000 stand-alone Blu-ray player."