Samsung has launched two new computers running Google's Chrome OS.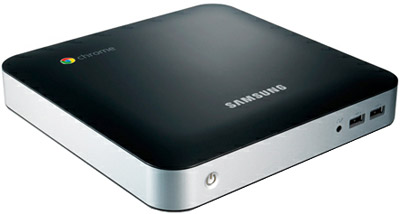 The Samsung Chromebox
The Series 5 550 Chrome OS notebook, referred to as a "Chromebook," is a 12.1-inch laptop. The Samsung Chromebox 3 is a small desktop PC that can connect to a separate keyboard, mouse and monitor, much like Apple's Mac mini.
Both devices are powered by an Intel Core processor and include 4 GB of RAM. They come equipped with USB ports, built-in dual band WiFi and gigabit Ethernet. Both support accelerated graphics and are said to run faster than previous versions. The Chromebook also features an HD camera and comes with a 3G modem option.
The Chromebook will be available online from retailers Amazon and Best Buy starting June 15 in the U.S. The 3G version will run at US$549, or $449 for a non-3G version. The Chromebox is selling for $329.
Google didn't return our request for comment.
Chrome OS Integration
The new hardware from Samsung will run the latest version of the Chrome operating system, which Google says it has worked to improve over the past year. This time around, the Chromebook will operate as much as 2.5 times faster than on previous models launched in December of 2010, which didn't gain much traction in the PC market.
The updates to the Chrome OS include multi-window support for a more traditional desktop layout feel, automatic updates and faster boot times. Another draw, particularly for enterprise or education consumers, is the ability to access and edit Google documents offline. Users will also have offline access, although not editing abilities, to a variety of other common file formats.
The next version is also contains support for Google Drive, the company's cloud storage service.
A hardware launch is a good way for Google to help promote its fledgeling OS, Dan Olds, principal analyst at Gabriel Consulting Group, told TechNewsWorld.
"I'm not hearing a lot of buzz out there for Chrome," he said. "They definitely need more hardware platforms and ISV support to help spread the word."
While customers may not wait out in line for the release of the products, Google must approach the Chrome updates in a way that is going to make it appealing to its targeted customers, Dave Johnson, senior analyst at Forrester, told TechNewsWorld.
"Chrome as a browser is doing OK," he said. "But Chrome OS is the key. I don't think that people are going to go out and get Chrome OS on a PC, but in order to make the operating system professional they need the hardware. It needs to be simple for customers to just pick up and use. It's going to be a learning process for Google."
Testing the Waters
As part of that learning process, Google is targeting Chromebooks toward businesses and schools. The company is offering monthly subscriptions at $28 per month for a business user and $20 for schools with additional services such as a cloud management console and device warranties.
Focusing on enterprises and schools could be a way for Google to take baby steps into a more mainstream market, said Olds.
"If they can move them into the education and business markets, there's a chance that these users will fall in love with them and decide to outfit their homes with one or five," he said.
But in a crowded market where laptops sporting more familiar OSes are decreasing in price, and tablets and mobile devices are becoming more powerful and equipped with greater computing capabilities, any new contender is going to face some tough prospects, said Olds.
"These boxes face serious competition from tablets, Ultrabooks, and Apple's slate of products," he told TechNewsWorld. "Users will definitely pay more for an Ultrabook or an iPad, but they get quite a bit more capability for their dollar. On the low end, Amazon's Kindle Fire can deliver at least the media streaming part of the Chromebook experience. The Kindle system doesn't have a physical keyboard, though, which is certainly a drawback when compared to the Chromebook."
Even for the more affordable Chromebox, a lower price point likely won't convert many new users to Samsung and Google's latest offerings, said Johnson.
"The Chromebox probably won't be used very much," he said. "It's an interesting concept, but Google has a lot of work to do with making people comfortable with that product. They're making inroads and they seem to be very persistent, but they've got some work to do. It comes down to familiarity and productivity, and saving a couple hundred bucks may not offset those," he said.