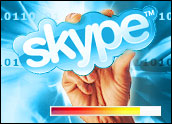 Skype has been making some new friends since it was acquired by eBay last month. The VoIP provider's latest announcement taps Cisco Systems' Linksys division.
The companies announced an agreement this week to market a cordless phone designed to take free Skype Internet phone calling off the computer and put it into the hands of callers. The companies said the new Internet Telephony Kit (CIT200) gives users the freedom to make Skype calls wherever they are in the home or office.
The CIT200 is the first Skype-enabled product bundled with a Skype starter pack. It will be available starting October 17 at more than 3,000 retailers throughout North America, Latin America, Asia Pacific, Europe, the Middle East and Africa. The suggested retail price is US$129.99.
Mass Market Appeal
James Bilefield, vice president of business development for Skype, said the company is singing up more than 170,000 new users every day. Bilefield is confident Skype's new relationship with Linksys will boost this subscriber rate further.
"We offer Skype on a range of different devices for the convenience of our callers, and teaming up with a world leader in high quality products such as Linksys is an exciting strategic advance," Bilefield said. " We look forward to releasing a number of great new products with Linksys in the future."
Atlantic-ACM CEO Judy Reed Smith told TechNewsWorld that a cordless phone for Skype users is a clever piece of the market to attack, especially considering the recent eBay acquisition.
"There are potentially thousands of eBay customers who may be interested in being able to validate sales and clear up some common issues like delivery and so forth using Skype," Smith said. "This is a good move for Linksys and very good move for Skype. It continues to move Skype from a service with an appeal to the more technically adept to a service that can appeal to the mass market."
Full-Featured I-Phone
The Internet Telephony Kit includes a handset, charger and a USB base station that plugs into a computer's USB port. The handset can read and display callers' Skype contact list on its built-in illuminated display, letting callers know which of their Skype contacts are online and ready to be called.
The handset also supports SkypeOut, SkypeIn and Skype Voicemail, premium services that let callers make and receive calls to family, friends and colleagues using traditional landlines or cell phones, and send and receive messages up to 10 minutes long.
The handset also includes call waiting support, a mute button, three available ring tones, and intercom support between multiple headsets. A built-in speakerphone, color LCD panel, hold button, caller ID, and an address book that supports 120 contacts are also among the phone's features. The company said the phone offers up to 120 hour standby time and 10-hour talk time.
A Shared VoIP Vision
Malachy Moynihan, Linksys vice president of Engineering and Product Marketing said Linksys and Skype share the same vision of providing customers with easy to use and affordable solutions that enhance the user's experience of the Internet. That's why Moynihan believes the new relationship will boost the next stage of global growth in Internet phone calling.
"Linksys believes Internet phone calling will be one of the most daily used Internet applications by consumers over the next few years," Moynihan said. "It's our commitment to provide these users with products that enhance their lifestyle and make networking easier."