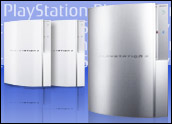 Sony on Wednesday said the European launch of its next-generation PlayStation 3 video game console will be delayed until March 2007. The machine will go on sale in the U.S. and Japan in November as planned.
A problem in mass producing a key component in the machine's Blu-ray disc player is causing the delay, according to Sony Computer Entertainment Chief Ken Kutaragi.
Blu-ray is a new, high-definition video format which Sony supports and has incorporated into its new console.
Losing Millions
Sony is maintaining its initial global target of shipping 6 million PlayStation 3 machines by March 2007. However, Kutaragi disclosed that the company would not have nearly as many machines for the initial Japan and U.S. launches as it had hoped for.
Specifically, about 400,000 PlayStation 3 consoles will be available when the machines go on sale in the U.S. on Nov. 17. Only about 100,000 machines will be available to Japanese video game fans when it launches there on Nov. 11.
Sony had expected to ship 4 million of the PlayStation 3 machines by the end of the year. That number could fall to as low as 2 million because of the Blu-ray issue.
"We've been working hard to try to tackle the problem, but we see the delay is inevitable," Kutaragi said.
The Ripple Effect
This may be good news for Microsoft and its Xbox 360 sales this holiday season, but Sony's woes are bad news for the gaming industry overall, particularly video game publishers. Many video gamers are in a holding pattern waiting for new consoles to launch before spending cash on new gaming gear.
"Why would you buy a PlayStation 2 game when you are waiting on the PlayStation 3 console? Why would you buy a PlayStation 3 game if it's going to take another month or two before you can get the new console," Marc Pado, an analyst with Cantor Fitzgerald, asked TechNewsWorld. "This impacts the short-term revenue stream of Sony and game makers who put out Sony titles."
Pado called Sony's announcement confirmation of an anticipated problem.
Sony's Woes
Sony has been wading through a stream of bad publicity over the past year. First it was the scandal over spyware hidden on CDs that contained its digital rights management software. More recently it was recalled batteries it manufactured for both Dell and Apple — each recall cost the firm millions of dollars.
"Sony's stock prices have fallen over the past few months from about (US)$50 a share to under $44. There have been some rumblings that Sony wasn't going to get the PlayStation out in time in mass," Pado noted. "Some of the concerns were already weighing on the stock."
In morning trading Wednesday, Sony's stock was down 81 cents a share to $43.06.