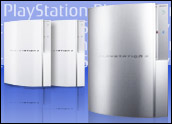 With the launch of the PlayStation 3 game console less than one month away, Sony on Thursday revealed additional details on the device as well as which game titles will be available first for the next-generation machine.
Sony unveiled 22 titles for the PS3 that will be available when it launches on Nov. 11 in Japan and Nov. 17 in the United States. The electronics giant is preparing war games, racing games, sports games and more in what Sony Computer Entertainment President and CEO Kaz Hirai called "the most robust game lineup" of any new console system at a Thursday press conference.
Despite dipping stock prices in the wake of the battery recall incidents, higher prices than the competing Microsoft Xbox 360 and Nintendo Wii machines, and admitted production problems, Sony executives are optimistic about the PS3's chances this holiday shopping season and beyond.
Price Points Announced
Pricing may be Sony's first obstacle, however. The least expensive PS3 will sell for US$500. Models with more functions will go for about $600. By comparison, an entry level Xbox 360 is currently on the market for $299. Nintendo's new Wii system, will retail for $249.
Game prices for the PS3 are more in line with the rest of the industry. Titles Sony has developed in-house, such as the first-person shooting game "Resistance: Fall of Man," will sell for $59.99.
Additional titles include "Fl0w," "Blast Factor," "Got Sudoku," "Grip Shift DLX," "God of War," "Criminal Crackdown," "Days of Blade," "MotorStorm" and others. Sony is also offering an old PSOne game, "Jet Moto 2." Video game publishers, including Electronic Arts and Activision, are also developing dozens of titles for the PS3.
In addition, Sony will sell games available for download online at $14.99 or less, leveraging the digital delivery model that Apple's iTunes had made so popular. Microsoft already offers its Xbox users downloadable games through its Live service.
The Learning Curve
Sony's biggest challenge for the 2006 holiday shopping season is not pricing, according to Yankee Group analyst Mike Goodman. Sony's challenge is overcoming the development learning curve for new titles. Nintendo faces the same obstacle with its Wii platform.
"The first time you develop for a new platform you are learning the idiosynchracies of the system. These are brand new systems and they are fundamentally different than earlier systems. So there is a steep learning curve to understand what works and what doesn't work and how to maximize performance on any one of these platforms," Goodman told TechNewsWorld.
Microsoft's Marked Advantage
Microsoft's Xbox has a marked advantage, Goodman added, because its titles are in the the second and third generation of development. A side by side comparison demonstrates that "Madden NFL 2007" for Xbox looks much better than "Madden NFL 2005" for Xbox because the developers have more experience with the platform.
"I don't expect any of these titles on either the Wii or the PS3 to completely blow me away this year because they never do," Goodman said. "It's not until the next holiday season when we expect to get better software titles. This is a critical learning curve for Sony because Microsoft is so far ahead."