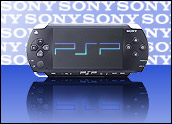 In a move to market the PlayStation Portable as a multimedia device, Sony is enhancing its handheld gaming hardware with new software that lets players transfer various file types between the PSP and their PCs.
Sony Media Software released the PSP Media Manager on Monday. Sony said the software allows users to take advantage of the PSP's ability to display multimedia content by leveraging its capabilities as a portable music device, digital photo album, and movie viewer.
With PSP Media Manager software, users can transfer videos, music, and still images, all via a USB-cable connecting their PSP system to a personal computer.
A download-only version is immediately available for US$19.95 at www.sony.com/mediasoftware. The boxed version, which will include a 6-foot USB 2.0 cable, sample media, and five free song downloads from the Connect music store will be available online on December 1 with a street price of $29.95.
Sony Sets Up for Digital Success
Sony said the PSP Media Manager software provides quick navigation and thumbnail previews to easily identify photos and videos to move from the PC to PSP system, and even lets users select among different quality settings (bit rates) for the transferred media.
The PSP Media Manager application supports most popular video and audio formats, and allows users to subscribe to RSS feeds including podcasts, video blogs, and PSP-formatted magazines for automatic downloading to the PSP system. The software also provides a one-click option that lets users back up game saves, images, videos, and music files from the PSP system to their PC.
"With more then two million PSP systems sold in North America as of September 2005, the PSP system has established itself as the preeminent device for mobile entertainment and gaming. Now, with the release of the new PSP Media Manager software, we're providing Sony technology that lets users easily optimize and transfer their content from the PC to their PSP system using a familiar drag-and-drop interface," said Dave Chaimson, vice president of marketing, Sony Media Software.
Targeting the iPod
Yankee Group senior analyst Mike Goodman told TechNewsWorld that the perception of the PSP is changing, but that's a Catch-22 on the gaming side of the equation, with Nintendo still pushing the pure-play DS gaming device.
"Sony's PSP is driving for a new category called the digital entertainment system. Essentially, you have two players in that marketplace — Sony and Apple," Goodman said.
"This device is clearly aimed at the video iPod. Sony is taking a page out of the Apple playbook in terms of integrating content, device and distribution. The first tangible evidence of that is the Media Manager."
Bragging Rights?
With market leadership bravado, John Koller, senior product manager with Sony Computer Entertainment America, said the PSP system has quickly become the device of choice for portable entertainment.
"PSP Media Manager software enables consumers to easily manage and move their favorite media from their PC to their PSP," Koller said. "The PSP system, coupled with the new PSP Media Manager software, provides a complete solution for truly enjoying the PSP system's portable entertainment capabilities."
Still, Goodman said Sony is lacking the integrated storefront that would complete the total package and allow it to compete more directly with Apple's iTunes for content management and music downloads.
"ITunes is a music manager and a storefront. We've seen a step in the direction with Sony's Media Manager, but it doesn't have the retail component to it yet," Goodman said. "I would anticipate Sony introducing a retail experience that ties into the Media Manager."