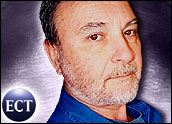 "Spitzer's Iron Wrist Sh*ts To Music Industry."
So said Xinhuanet, the Web site for China's official state news agency, Xinhua.
It's obviously a translation mistake, but nonetheless the phrasing works, almost.
"Spitzer" is, of course, Eliot Spitzer, the New York State attorney general, and the story continues: "Investigators in Mr. Spitzer's office have served subpoenas on the four major record corporations — the Universal Music Group, Sony BMG Music Entertainment, the EMI Group and the Warner Music Group — seeking copies of contracts, billing records and other information detailing their ties to independent middlemen who pitch new songs to radio programmers in New York State."
Disinformation
For years, the mainstream print and electronic media have been serving up music industry lies, half-truths and disinformation as if it came from credible sources.
In all fairness, many (most?) of the press outlets involved often don't have much of a choice. They're either owned — directly or at arm's length — by the industry they're supposed to be fairly and accurately reporting on, or they receive enough in the way of advertising dollars to make bucking Big Music an unpalatable, if not completely unacceptable, proposition.
However, in this case, there's no problem because the story comes from the New York attorney general's office and there's no way it can be misreported or ignored, especially because it's Part II of the Big Four vs. Spitzer story.
In Part I, he forced the members of the Big Music cartel — UMG (France), Sony-BMG (Japan, Germany), EMI (UK) and Warner (USA) — to cough up $50 million they'd been able to avoid paying to artists under contract to them.
In Part II, he raises the specter of Payola and … stay tuned.
Piracy Redux
In the meantime, "Piracy, both online and on the street, continues to hit the music community hard, and thousands have lost their jobs because of it," Recording Industry Association of America (RIAA) chairman and CEO Mitch Bainwol claims.
The jobless thousands notwithstanding, the music industry did very well in the first half of 2004, with full-length CD shipments to retail outlets increasing by 10.2 percent compared to the same time period in 2003, says the RIAA.
"It is the first time in five years that the first half of the year has experienced an overall increase in shipments of all formats combined. DVD music videos and licensed digital downloads also showed impressive growth," says the music industry enforcer, giving the lie to its own claims that record labels are being ruined by file sharing.
"Overall, CDs and all other audio and video music products shipped to retail increased by 8.5 percent in the first six months of 2004 (289 million units were shipped in the first half of 2004 vs. 267 million in the first half of 2003), while the dollar value of those shipments increased 4.5 percent.
"When including direct and special markets, the overall percentage growth for the first half of 2004 for units shipped, compared to a similar time frame in 2003, is 4.0 percent (349 million units versus 336 million). The overall dollar value increase for all units shipped was 3.6 percent."
DVD videos grew 101 percent, up to 11.2 million units in the first half of 2004 compared to 5.6 million last year, and a 54 percent increase in value compared to the year prior. The overall music video marketplace, when including tapes and DVDs shipped to retail as well as direct and special markets, grew by 91.6 percent (12 million units vs. 6.3 million).
However, "the industry's top-selling albums, which are among the most heavily pirated, remained significantly down as compared to 2001."
New Strategies?
Not to worry, though.
During the first half of 2004, record companies continued to develop "innovative business strategies — aggressively making music available" to "authorized" digital services, introducing new formats and offering an array of exciting new releases, declares the RIAA.
"Continued growth requires innovative business models, aggressively making music available to legitimate digital services, public education, appropriate legislation and a strong measure of deterrence. We still have our work cut out for us, but the encouraging news behind these numbers confirms we are on the right track."
With the U.S. Congress, Department of Justice and FBI in its bottomless pockets, how can Big Music go wrong?
---
Jon Newton
, a TechNewsWorld columnist, founded and runs
p2pnet.net
, a daily peer-to-peer and digital media news site focused on issues surrounding file-sharing, the entertainment industry and distributed computing. p2pnet is based in Canada where sharing music online is legal.
---