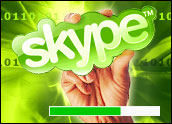 StreamCast Networks has filed suit against Skype and Kazaa in a U.S. District Court in the Central District of California, claiming copyright infringement violations under the Racketeer Influenced and Corrupt Organizations Act, otherwise known as the Rico Act.
StreamCast Networks, which developed and distributes the Morpheus file-sharing and search software that provides copyright holders with the ability to sell content to peer-to-peer users, is alleging that it owns the underlying software in use by Skype, the Voice over Internet Protocol provider eBay purchased last year.
Skype founders Janus Friis and Niklas Zennstrom, also the developers behind the Kazaa file-sharing software, are also named in the suit. StreamCast and Kazaa have quarreled over software licensing fees in the past.
No Comment
"As has been reported, StreamCast Networks, the developer and distributor of Morpheus P2P file search and sharing software, has filed a lawsuit against Skype and the other named defendants alleging violations of the Racketeer Influenced and Corrupt Organizations Act, and other claims," said Charles Baker, a partner at Houston-based Porter & Hedges, and StreamCast's lead counsel on this case.
"I am unable to expand upon that at this time other than to say that the Complaint speaks for itself. We will not be providing copies of the Complaint to the media. StreamCast looks forward to litigating this lawsuit," he added.
Neither Kazaa nor Skype responded to inquiries seeking comment.
Anti-Mafia Law
The Rico Act is a law enacted in 1970 to eradicate organized crime by establishing strong sanctions and forfeiture provisions. In essence, Rico was intended to destroy the Mafia.
The Rico Act was used almost exclusively in this context until the 1980s, when civil lawyers began to explore section 1964(c), which allows civil claims to be brought by any person injured in their business or property by reason of a Rico violation.
Any plaintiff that proves his civil Rico case automatically receives judgment in the amount of three times their actual damages, along with costs and attorneys' fees. By the late 1980s, Rico became a popular claim in federal court, with attorneys extending the law to cover fraud, product defects and breaches of contracts.
With Rico cases running rampant, Congress attempted to limit the scope of Rico in the civil context in the 1990s. Civil plaintiffs today find it much more difficult to navigate the complicated law.
Act of Racketeering
"Criminal copyright infringement is an act of racketeering that can serve as a basis for a Rico complaint. Criminal copyright infringement is rare. Usually if it's a copywritten work, companies aren't going to steal it, but it happens," attorney Jeffrey E. Grell told the E-Commerce Times.
Legal experts do not expect an explosion of Rico cases on the corporate front — limitations on Rico's use still applies — but it has become an accepted strategy for companies.
"People used to think there was some sort of stigma attached to Rico because you are claiming that the defendant is a racketeer. Nowadays it's just another claim to allege in a lawsuit. If fact situations warrant a Rico claim, it would be silly not to use Rico. It's a tool that's available and should be used, but I don't think you will be seeing used willy nilly," Grell noted.
In Court Again
StreamCast is no stranger to the courtroom. In June 2005, the company saw the U.S. Supreme Court remand the MGM et. al. v. Grokster and StreamCast Networks case back to the lower Federal Court, which had ruled in favor of file-sharing software.
The ruling stands for the proposition that the trial Court has to look at the facts to see if StreamCast intended and encouraged Morpheus to be used to infringe on copyrights. There is as yet no clear winner in the case.