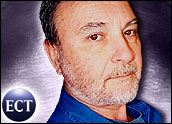 When Princeton University Office of Information Technology policy adviser Rita Saltz learned the MPAA might follow the RIAA in suing students, she said, "My heart and viscera just shrank and chilled."
Saltz is quoted in the Daily Princetonian in a story that reveals MPAA boss Dan Glickman has "expressed concern about illegal movie downloading on the University network and attached a list of 66 IP addresses associated with alleged acts of infringement," according to university spokesman Eric Quinones.
Students Scared
In April, a Princeton student was worrying that he might face criminal charges and be thrown in jail on the instructions of Warner Music (U.S.), Sony BMG Music Entertainment (Japan, Germany), EMI Group (Britain) and Universal Music Group (Vivendi, France) for sharing music online.
The Big Four, who are each reporting eye-popping revenues, say file sharing is wreaking havoc with their bottom lines and demanded the names of 39 students they claim were sharing music online.
But file sharing isn't a crime. And it's never even been vaguely proved that it has any impact on entertainment industry sales, a point driven home by many academic and other studies.
Quinones said Princeton planned to cooperate with the RIAA, and affirmed the school's commitment to "honoring intellectual property rights," according to an article in The Princeton Packet.
Expressing Concern
Back to the movie studio cartel, Glickman didn't say if the MPAA (Motion Picture Association of America) will actually sue any of the 66, but, Saltz said, "Our OIT office has contacted all of the students associated with those machines where the alleged infringement occurred.
"They were notified that we did receive this notice and instructed that if any infringement was going on, it should cease immediately."
However, it seems there are no immediate fears of Princeton students being jailed.
"This letter was not a typical takedown notice, but rather an expression from the MPAA's president to President Tilghman that the film industry is concerned about copyright infringement at Princeton and on other college campuses," Quinones said.
Intimidation Techniques
Last August, Hollywood's Joint Committee of the Higher Education and Entertainment Communities (JCHEEC) said that "many different segments of academia have contributed their views and perspectives on how higher education should address the issues posed by illegal file-sharing."
The organization said at least 20 universities had signed deals with commercial online music sales companies, including Napster II and RealNetworks, to allow them sell "product" turned out by the Big Four record label cartel.
Furthermore, the JCHEEC said, "Each year, university administrations experiment with the offerings and combinations that work best for them. The organization added, ominously, "Even more changes are likely in the coming years, based on the experiences gleaned from the efforts now being tried."
Penn State was the first university to sign up and now works hand in glove with the entertainment cartels.
Were Princeton only to follow its example…
---
Jon Newton
, a TechNewsWorld columnist, founded and runs
p2pnet.net
, based in Canada, a daily peer-to-peer and digital media news site focused on issues surrounding file sharing, the entertainment industry and distributed computing.
---