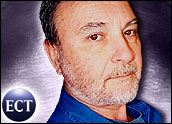 With a landmark Supreme Court hearing on online file sharing slated for March 29, Hollywood is stepping up its multimillion-dollar, international PR blitz to keep peer-to-peer networks in the public eye and to characterize men, women and children who share music and other files online as hardened criminals.
In the U.S., nearly 10,000 people have been sued. In Sweden the police raided the Stockholm offices of Bahnhof, Sweden's largest ISP. They were acting on behalf of the Motion Picture Association of America (MPAA), which is looking for dirt on the sites it wants to shut down. According to Reuters, "U.S. copyright protection experts" — i.e., the movie studio cartel's lawyers — have considered Bahnhof a "haven for high-level Internet piracy for years."
Six UK ISPs have been ordered to give the Big Music cartel's UK representative, the British Phonographic Industry (BPI),the names and addresses of 31 people said to have uploaded large numbers of music files onto P2P networks. The BPI says it will probably ramp up its attacks on UK file sharers, likening the action to legal fights to curb drunken driving.
Backward Thinking
International singing star Joni Mitchell once said, "The deal that I got was just atrocious. I mean, it was like slave labor, really — no points, no budget. And I've never really had a good deal in the business." She also said, "Now, this is all calculated music. It's calculated for sales, it's sonically calculated, it's rudely calculated. I'm ashamed to be a part of the music business. You know, I just think it's a cesspool."
Nor is Mitchell by any means alone in her view of the music business, which cynically casts itself as a tough but scrupulously fair entity that has the best interests of its artists and customers at heart. In truth, it's an industry run by venal, narrow-minded, technically ignorant people who have no idea how to treat music fans or the performers who have made them so very, very wealthy.
The executives are making a religion out of refusing to accept that they live in the digital 21st century. As Britain's The Economist says, "So far they [the record labels] have been slow to embrace the Internet, which has seemed to them not an opportunity but their nemesis."
The Supreme Court battle involves heavy and not-so-heavy interests from all parts of the corporate spectrum, all fighting for consumer dollars. But the most important people involved are the file sharers themselves — customers whom the entertainment industry and its friends are trying to scare into buying their products.
Crooks and Customers
The principle of innocent until proven guilty is being mocked by the entertainment industry, which, with the assistance of the mainstream media, presents online file-sharers as crooks.
When someone shares a digital music or any other file online, however, it's not a criminal offense. No sales are made and no money changes hands. Not one file sharer has ever seen the inside of a U.S. court, let alone been convicted of anything.
Sharing a file with someone doesn't automatically mean the loss of a sale to the entertainment industry, its protestations to the contrary notwithstanding.
File sharers are not criminals; they're victims of entertainment industry greed.
Victims of Greed
The music labels claim there's a thriving alternative to file sharing: corporate online music stores such as iTunes and Napster II. But this business is so tiny that it barely exists. Only an infinitesimal proportion of online music lovers use such sites. And that's because, in their greed, the labels wholesale their MP3 tracks for between 65 and 75 cents each, forcing the retailers to charge around a dollar a track. And the labels want to increase, not decrease, this already extortionate price.
So, of course, few are buying. Instead, they get their music from one of the P2P networks, or from a site such as AllofMP3.com, which sells MP3s for pennies instead of dollars.
Meanwhile, the true criminals — the duplicators who use CDs and DVDs as masters for making counterfeit copies for software, music and movies — count their profits, virtually untouched.
---
Jon Newton
, a TechNewsWorld columnist, founded and runs
p2pnet.net
, based in Canada, a daily peer-to-peer and digital media news site focused on issues surrounding file sharing, the entertainment industry and distributed computing.
---