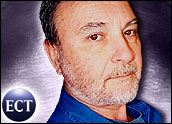 There was an interesting article in the New York Times over the weekend. Called "From a High-Tech System, Low-Fi Music," its focus was on compressed music files that are lossy by virtue of the fact that they've been compressed and, hence, are missing information.
So people who use iTunes for their iPods aren't getting value for money, the story suggests: "Customers are led to believe that they are getting a CD in all respects except the trouble of going to the mall. The iTunes store does not warn about the permanence of its method of compression; once freeze-dried, there is no way to reconstitute the music into CD quality for playing through a good stereo."
In other words, iTunes-cum-iPod users are paying way too much for far too little — literally.
While this is correct, Apple is far from being the only villain in the piece. The same applies to the other corporate music sales sites.
Loss Leader for iPod
iTunes is a loss leader for iPod, and iPod is in turn a kind of nonloss leader for Apple products in general.
The amazing marketing and PR skills of Steve Jobs and the people behind him ensure the mainstream media keeps on pumping Apple as though it's all there is.
Big Music does the same for the corporate music sites, all offering identical mass-produced "product" manufactured and supplied directly or indirectly by the Big Five record labels in their many and various forms, and all sold for more or less the same prices.
This ensures there's no competition.
However, the vast majority of people who download compressed music tracks don't really care. They don't, after all, get their music goodies from plastic music sites such as iTunes. Nor do they use Apple hardware or software.
The vast majority of people getting their music in digital form get it for free by way of P2P networks.
Immaculate Quality or Music Lite?
What's more, whether they're among the scant few — relatively speaking — who cough up a buck per download from the corporate online music stores, or whether they're among the millions and millions who share music via the P2P networks, they're not looking for immaculate quality when they download.
Most people want shrink-wrapped tracks so they can hear music while they're skateboarding, biking, listening in their car or on boat or plane or train — or whatever.
They don't want to be carrying stacks of CDs or DVDs around. In this kind of context. Music Lite is fine.
Although the music industry flatly refuses to admit it, when downloaders and file sharers find something they like, they go out and buy a CD holding the "full" version.
However, as the New York Times piece implies, forking out a dollar for a Big Music track is dumb, very dumb, and bit rates have nothing to do with it.
Music Industry Knows
A dollar — or the UK, French, German or Spanish equivalents that are usually more than that — is grossly excessive whether it's for the world's most perfect recording or a Kellogg MP3 that's full of snap, crackle and pop.
The music industry knows it, and could be turning the tide, fighting its pirate troubles and creating a happy user base with P2P as its distribution and marketing vehicle, selling "product" at reasonable prices.
Data transfer rates and storage capacities are moving increasingly toward mind-boggling sizes. Soon, there'll be no reason why high-fidelity downloads can't be achieved. Purists could then grab perfect recordings for 30 or 40 cents a go, say, while MP3 versions could go for 10 or 15 cents, perhaps.
And there are other models such as the Electronic Frontier Foundation's. But then the labels — not to speak of the movie studios — would be forced to compete head-on and up-front with the millions of independent artists and companies around the world.
And that'll never happen.
---
Jon Newton
, a TechNewsWorld columnist, founded and runs
p2pnet.net
, a daily peer-to-peer and digital media news site focused on issues surrounding file-sharing, the entertainment industry and distributed computing. p2pnet is based in Canada where sharing music online is legal.
---