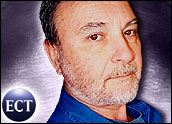 By selling "product" at half price, RealNetworks has climbed into second place in the corporate music market dominated by Apple.
That was Real's claim at the conclusion of its 49-cents-a-pop download offer, under which it sold three million tracks to spotlight its Harmony application that lets songs downloaded through RealNetworks play on Apple's iPod, to Apple's anger.
The latter said the former was using unfair "hacker tactics" when it launched Harmony.
However, the real point isn't whether RealNetworks beat Apple.
The only people who care are the record labels, the companies themselves and the mainstream media, which has been misled into believing a corporate online music market actually exists.
Reality Check
In the real world of online music, P2P file sharing rules. But RealNetworks' three million dollar score proves there actually could be a market. One of these days. If the entertainment industry ever smartens up.
At the moment, the music industry — with the movie studios right behind — is doing its best to kill the P2P networks where every minute of every day, upwards of nine million people are sharing digital music files to the tune of more than a billion a month.
P2P represents the first and only serious competition to what, over the years, has been winnowed down to the Big Four record label cartel, namely Warner (US), EMI (UK), UMG (France) and Sony-BMG (Japan and Germany) who say file-sharing is "devastating" their multibillion-dollar businesses and claim terrible hardship and huge financial losses.
Relentless Lawsuits
With that as their rationale, for months they've been relentlessly suing people who, they say, are improperly downloading "product."
So far, they've threatened 4,995 people with terrifying (to the victims) lawsuits. But, faced with taking on Big Music with its regiments of lawyers, all of the defendants have so far settled before their cases could be heard by a judge.
The RealNetworks loss-lead, half-price promo was a "smashing" success, RealNetworks' senior vice president of marketing, Dan Sheeran, is quoted as saying in a CBS MarketWatch piece that "price will continue to be an incentive to come to our store."
And there's the nub of it.
Like all the other corporate music sites, RealNetworks has spent millions trying to make its service work. But potential punters prefer to get their music fixes from the P2P networks where countless tracks are available from countless artists — not merely those owned by the Big Four.
Reasonable Prices?
Against that, the corporate sites have the same measly 750,000 or so downloads to offer at a rip-off dollar-a-download.
So far, the concept of selling quality product at reasonable prices isn't in the corporate music business plan. One of the reasons the dominant sites are surviving at all is because, thanks to Big Music's Recording Industry Association of America, they have captive audiences — people serving in the military and students who have to take what they're given.
However, although RealNetworks' temporary 49 cents per song is still way too high, it's not a dollar. And judging by the results, some online music lovers were starting to pay attention.
Price will continue to be not merely "an incentive" but a driving force, and if the music industry would marry that fact with the potential offered by P2P, it would start making money, help eradicate its so-called "pirate" problem and also begin to persuade its customer bases that it once again has something to offer.
Sometime soon, the labels will be forced to start using P2P to market, distribute and sell their offerings.
And while they get their acts together, they should be wooing instead of suing.
---
Jon Newton
, a TechNewsWorld columnist, founded and runs
p2pnet.net
, a daily peer-to-peer and digital media news site focused on issues surrounding file-sharing, the entertainment industry and distributed computing. p2pnet is based in Canada where sharing music online is legal.
---