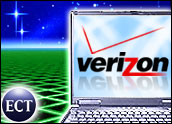 In an apparent move to challenge Apple's iPod music player, Verizon Wireless on Monday announced that its V Cast Music service will offer individually priced downloads.
The competitive announcement that voids the US$15 monthly fee for Verizon's music service comes in conjunction with the wireless provider's launch of Chocolate by LG, the latest mobile music phone.
"With the new V Cast Music pay-as-you-go pricing structure, Verizon Wireless' millions of customers with V Cast Music-enabled phones can now call their music whenever the urge strikes, giving them easy access to mobile music," said John Harrobin, vice president of marketing and digital media for Verizon Wireless.
Priced Out of the Market
Harrobin called the offering a breakthrough in industrial design and music functionality. The question, however, is whether or not any mobile music phone could ever hope to compete with the iPod, especially when an individual track comes at twice the price of an iTunes track — at $2 each.
Inside Digital Media Senior Analyst Phil Leigh does not believe the concept is a threat to Apple or its iTunes Music Store. He called it a "non-starter" for the consumer.
"The two dollar price is just too high," Leigh told TechNewsWorld. "The research that we've seen is indicates that interest drops off significantly for songs priced above a dollar and twenty nine cents."
Still Swinging at iPod
Despite the critics, Verizon and LG are taking their best one-two punch at Apple. V Cast does offer users access to more than 1.3 million songs, a full line of music accessories that includes enough memory to hold up to 1,000 songs.
The Chocolate phone offers a slider design, high-powered speakers and dedicated music keys to access V Cast Music quickly. Chocolate is engineered to allow customers to browse, preview, download and play high-quality digital music from the V Cast Music catalog.
The Chocolate phone comes with a $149.99 price tag after a $50 instant rebate and new two-year Verizon customer agreement.
Hoping for Impulse Buyers
Verizon is hoping that unleashing its users from the subscription model will spur more adoption from customers who may only want to purchase a few songs a month. V Cast Music-enabled phone users will now pay $1.99 per song, plus air time.
Users can also download songs to a Windows XP PC for 99 cents and transfer existing compatible digital music collections from their PC with no airtime charges. Purchases from the phone include two copies of every song — one for the phone and one for the Windows XP PC.
Verizon seems to be attempting to tap into the impulse buyer's demand for instant gratification. Leigh, however, still sees that market as only a small percentage of users.
"Keep in mind that the iPod is not finished evolving. We could see a WiFi-enabled iPod before the end of the year. There is speculation that Microsoft is going to offer a WiFi-enabled competitive device," Leigh noted. "My guess is that neither of those two companies will charge above a dollar for a song download."