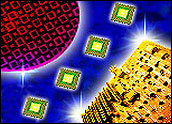 Taiwanese chipmaker Via Technologies late last week launched a new chipset that could drastically increase the performance and reduce the size of mobile devices and laptop computers.
Via launched the Via VX700 chipset to complement its Via Ultra Mobile platform in Ultra Mobile PC (UMPC) devices. The Via VX700 is expected to be available in volume quantities later in the third quarter of 2006.
UMPCs are a new category of devices small enough to fit into a pocket or handbag. According to Via, the new chipset will allow manufacturers to create computers that are up to 40 percent smaller than today's UMPCs.
"The Via VX700 sets a new industry milestone for functionality and performance in a single chipset package," said Chinhwaun Wu, special assistant to the president, processor platform product marketing, Via Technologies. "Together with the Via C7-M processor, Via can now offer a platform that breaks form factor barriers while maintaining comprehensive performance, a leading feature set, and ultra-low power operation for longer battery life."
Playing the Power Card
Via claims to break new ground by enabling platforms for the smallest, coolest and lightest devices possible. The Via VX700 is designed specifically for today's ultra thin, light notebooks and mobile devices. The mobile chipset package measures just 35 mm x 35 mm, generating a silicon real estate savings of up to 42 percent, according to the company.
"Notebook manufacturers are looking for chipsets that will work with new processors that have wider bandwidth for higher speed and low power memory. Lower power consumption is a key focus for anything on the mobile front because of the ever-increasing demands being put on the notebooks, such as bigger screens and wireless connectivity," Tony Massimini, chief of technology for Semico Research, told TechNewsWorld.
Via's 'Small' Claims
A host of digital media, memory and connectivity technologies are packed into the single-chip package of the Via VX700. For example, enhanced video quality is provided through the Via UniChrome Pro II IGP core with its 128-bit 2D/3D graphics. Its image enhancement technology is said to deliver a high-definition visual experience, including advanced video acceleration for MPEG-2, MPEG-4 and WMV9 formats.
Via's memory controller technology has been incorporated into Via VX700, with support for both DDR and the latest low power high-bandwidth DDR2 memory modules. This includes support for 32-bit DRAM modules enabling a further reduction in form factor.
Via integrated its Via Vinyl HD Audio controller, which supports up to eight high-definition audio channels and also offers broad connectivity with support for SATA II and PATA drives, six USB 2.0 ports, and four PCI slots. The chipset also integrates a multi-configuration LVDS/DVI transmitter for connection to LCD, and CRT/HDTV interfaces.
Theory in Practice
DualCor Technologies is putting the new chipset to the test with its cPC, a new mobile computing device that brings together all the capabilities of a personal computer and a mobile communications device in a handheld form factor.
Rob Howe, President of DualCor Technologies, said he is pleased with the Via VX700 chipset and Via C7-M ULV processor, noting that these advances have enabled his company to create a new convergence device that combines the convenience of a digital communications device with the power of a conventional PC in a thin machine.
"The Via Ultra Mobile platform … has been critical in helping us achieve the cPC's small size and enhanced battery life, while still providing the performance that today's mobile user needs for everyday PC tasks," he said.