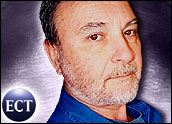 Troubled Roxio, owner of the equally troubled Napster 2, is deceased. Or, rather, it's dropping the Roxio part and is taking a second shot at using the Napster name to revive its failing fortunes.
The firm has been tottering along for months, issuing statements based more on hope than reality and clearly looking to Napster 2 — which, truth be known, isn't in terrific shape — for its salvation.
And now it's taken things a faltering step further.
To raise more badly needed cash, Roxio sold its consumer software division to Sonic Solutions for $80 million — $70 million in cash and shares of Sonic common stock valued at $10 million.
Henceforth, Roxio will be known as Napster.
Corporate Online Music
Napster has been able to penetrate a frightening number of U.S. universities, thanks largely to partisan backing from the Big Four record label cartel. But in spite of this, and faithful support from the mainstream media, it's never been able to become a significant player in the corporate online music market, such as it is.
While Big Music tries in vain to peddle its cookie-cutter tunes through the various corporate music "stores" it supplies with identical product, music lovers in their hundreds of millions are ignoring its offerings, preferring the P2P networks.
However, you have to give Roxio (oops, Napster) an "A" for effort. It isn't giving up, and with another $70 million now available, still hopes to get into the online game.
"Under the terms of the deal, Sonic will purchase essentially the entire Roxio software operation, including Roxio's CD and DVD recording, authoring, photo and video editing application products, including Easy Media Creator, PhotoSuite, VideoWave, Easy DVD Copy and Toast," Roxio (oops, Napster) says in a statement.
Captive Users
"Sonic expects to retain most of the current employees of the Roxio organization. Sonic intends to continue the Roxio brands, and current distribution and OEM relationships," the company says.
Roxio (oops, Napster) hasn't been able to weasel its way into the corporate online music market, but it does remarkably well with captive users and, this time, somehow, it's managed to suborn America's Army, Navy, Air Force, Marines and Coast Guard.
Mind you, it's about the only way Napster can get users. Students and military personnel have no choice but to swallow whatever the powers that be dish out — whether they like it or not.
When will the RIAA and MPAA announce the formation of a Joint Committee of the American Armed Forces and Content Communities along the lines of Hollywood's Joint Committee of Higher Education and Content Communities, one wonders? Then we'd have something along the lines of joint-chairs, Cary Sherman, RIAA, Jack Valenti and Dan Glickman, MPAA, general Richard B. Myers, chairman, JCS.
'Legal Music'
Anyway, through the Army and Air Force Exchange Service (AAFES), Napster's "huge catalog of legal music — over 750,000 tracks — and community features" have become "available" to active, reserve and retired military personnel and their families "in all branches of the United States military."
Absolutely unbelievable.
And 750,000 tracks, huh?
Last month alone, there were some 8.25 million simultaneous P2P users online at any given moment, while shared files for July were close to 1.25 BILLION, Big Champagne CEO Eric Garland says.
That's the true bottom line.
Napster died when the then Big Five record labels drove a steak through its heart and nothing Roxio-that-was can do will change that.
---
Jon Newton
, a TechNewsWorld columnist, founded and runs
p2pnet.net
, a daily peer-to-peer and digital media news site focused on issues surrounding file-sharing, the entertainment industry and distributed computing. p2pnet is based in Canada where sharing music online is legal.
---