Gaming equipment maker Razer has shown a prototype hybrid PC/tablet gaming device design at the Consumer Electronics Show. The device, presently dubbed "Project Fiona," will be a way to combine control and touch elements to create a unique gaming experience, according to the company.
The prototype is designed to be able to play hardcore PC games and give users the same control and visual experience that they would have while playing on a full-sized computer or console.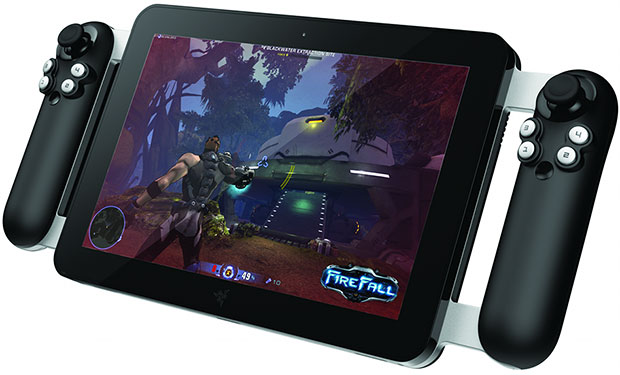 Razer's Project Fiona
Project Fiona has integrated dual game controllers as well as a touchscreen.
Razer released few details regarding price or availability, stating only that it would ship in the fourth quarter of 2012 and would be less than US$1,000. Razer didn't respond for our requests for further comment.
Another Device?
While early hands-on reviews have been generally positive about the design and innovation of Razer's device, the product will be hitting a crowded marketplace. As gaming becomes more popular and smartphones and tablets work their way into the hands of millions of users, companies like Apple, Microsoft, Samsung, Google and other providers are working to make their devices more suitable with a gaming experience.
"This idea seems pretty interesting, but I'm skeptical as far as market penetration goes. Since it's gaming and it's Razer, they're targeting the gaming market, but I don't know if the gaming market necessarily needs a tablet for gaming. There are already handheld consoles, and those have proven they can do the job pretty well," Tuong Nguyen, analyst at Gartner, told TechNewsWorld.
The need for gamers to procure a separate device, then, is dwindling, and that trend could grow across the entire marketplace for tech gadgets.
"The future I see for gaming, maybe five years out and on, is more of a console terminal that you would dock to a device such as TV, which is a centralized device where you can add accessories or capabilities for the function you want it to serve. It could become your TV, your cable, take it with you as a tablet, make it part of the home office, for instance. A device will be more of a unified central device than individual ones, which makes me skeptical about this product," said Nguyen.
Could Break the Bank
A price nearing on $1,000 could be rather high, especially considering some of the less expensive devices for both tablets and gaming devices — both anticipated and already released.
"For the 'most anticipated tech product of 2012' poll, the iPhone 5 came out on top with 35 percent … Coming in second was the iPad 3 with 20 percent. Rounding out the top five was the rumored Google tablet, the PlayStation Vita, Wii U and the Kindle Fire," Glenn Mandel, communications for SodaHead, told TechNewsWorld.
While Project Fiona wasn't an option on SodaHead's poll, the numbers indicate consumers are looking forward to a high number of recently announced or soon-to-be-announced products in the coming year, many of which can be used for gaming.
"The estimates for the price are a little on the high side. People are making claims that there are more gamers than there were before, but they're using tablets and smartphonesm which more people have now, so traditional hardcore gamers that would want this product and are willing to spend up to this price point are probably about the same. And they're probably thinking, if I'm spending this much, what can I get out of a laptop instead?" said Nguyen.