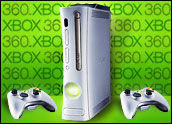 Bolstering what some are calling clear evidence that the gaming industry is moving online,Microsoft claimed that its Xbox Live service has passed the 24 million download mark. The milestone comes just months after theXbox 360 launch last November.
Xbox Live is Microsoft's platform for high-definition, on-demand content. It offers players game demos and expansion packs, along with a host of other add-ons. During the week of the E3 trade show in Los Angeles, Xbox invited gamers to log on to Xbox Live with a free week-long Gold membership.
Golden Strategy
The strategy worked. Over 1.5 million gamers connected to Xbox Live last week, downloading exclusive content direct from the show floor, including the latest high-definition game demos and trailers, such as "Halo 3," "Gears of War" and "Fable 2." They also downloaded movie trailers, music videos and other add-ons totaling more than 5 million pieces of gaming and entertainment content.
"The sheer volume of downloads during E3 week was simply staggering. To put it in perspective, all the printed material in the U.S. Library of Congress is estimated to be about 20 terabytes, and Xbox Live delivered 30 times that amount in just 7 days," boasted Peter Moore, corporate vice president of the interactive entertainment business in Microsoft's entertainment and devices division.
By the Numbers
Microsoft is ahead of the curve in a numbers game that could cause a shift in the market position of gaming console brands.
The U.S. gaming industry is worth more than US$12 billion, according to Parks Research, with about 15 million casual gamers. Seventy percent of the Internet-equipped households in the nation include at least one game-playing person. Half have at least one gaming console.
It is these next metrics, though, that speak to the future. Parks estimates some 3 million people pay for subscriptions to massively multiplayer online games, or MMOGs. Two million console owners pay for online games. That number is expected to grow in the future.
Stacking Up
Sony plans to build an online gaming service for the November release of its long-awaited next-generation console, the PlayStation 3. The electronics giant hopes to maintain its market lead over Microsoft by offering a competitive PlayStation Network Platform that would offer matchmaking, player rankings, video and voice chat, friend lists and purchasable content.
Meanwhile, Nintendo has released no information about how online gaming fits into Wii, its next-generation console. Nintendo has seen success with its DS handheld gaming system, though, and the gaming guru will likely stay abreast of industry trends with its next console.
Microsoft's Quest
Microsoft would love to be the dominant gaming console, and it would also love to recoup some of its losses on the Xbox while paving the way to online gaming success. Microsoft figures the way to do all of that is to emphasize connectivity between the Xbox and the Media Center PC, according to In-Stat analyst Brian O'Rourke.
"Microsoft is looking at the gaming industry as a way to defend its turf in the home," he told TechNewsWorld. "Microsoft wants to keep the PC the center of home entertainment. The company does have an advantage, because most people who buy an Xbox have a lot of digital images and MP3 files on their PC. This could be a roadmap to profitability for the Xbox."