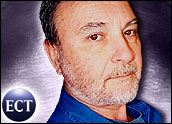 Having set the pace by victimizing 12-year-old Brianna Lahara, the four members of the Big Music record label cartel say they're equally OK with suing children in Britain.
Brianna and her mother live in a New York housing project. Last year, Mrs. Lahara paid $2000 to the cartel's trade group, the Recording Industry Association of America (RIAA).
Her daughter had downloaded a number of songs, including "If You're Happy and You Know it Clap Your Hands" and various TV themes.
Children First
Like everyone else the RIAA has gone after so far, she had no choice. It was either accept the "settlement" offer or go up against Big Music and its legions of lawyers.
"[A]s this case illustrates, parents need to be aware of what their children are doing on their computers," said Mitch Bainwol in one of his first public utterances after taking over from Hilary Rosen as RIAA boss.
Brianna spent $29.99 on a copy of Sharman Networks' Kazaa, the P2P application most of the people sued by the RIAA had been using. She'd believed the software entitled her to download whatever she wanted.
British Invasion
Now the fruitless "sue 'em all" campaign has been extended into Europe, with the cartel's British Phonographic Industry (BPI) going after 28 Brits as "the worst offenders" and promising hundreds more to follow, according to the Guardian.
Does that include kids such as Briana?
Yes.
"It is not our intention to target children," BPI chairman Peter Jamieson is quoted as saying, "but [we will] if they are breaking the law on a very large scale."
The RIAA recently chalked up its 5,700th U.S. victim, but the effort still hasn't made an appreciable difference in file sharing.
UK arts minister Estelle Morris, however, supports "the principle of proportionate legal action against the worst offending uploaders," says the Guardian. "I hope it will stop the habitual offender who uploads to make a quick buck out of other people's talent."
Another Guardian story centers on a man named Laurence, 40, who says he's downloaded "thousands of singles and hundreds of individual music videos."
His sons download, too, but "I've never burnt a CD and sold it," he says. "It isn't done. You just do it for your own use. I probably spend more on music now since I started downloading."
Customer's Wrong
But according to the entertainment industry, customers aren't reasonable people with reasonable expectations. They're all potential hard-core criminals, out to ruin the members of the Big Four record label cartel and the major movie studios unless they're beaten into submission by lawsuits.
Hollywood is steamrolling the competition by calling on its political friends, exploiting the many mainstream print and electronic media outlets it owns, threatening to hold back advertising from the ones that don't follow the party line, and generally using its limitless financial resources to push its cause.
Up against it at are very ordinary people around the world — mums and dads, kids still in grade school, senior citizens. These are your next-door neighbors, not the calculating organized criminals the entertainment industry makes them out to be.
Their numbers are made up like this: 762 people sued in the U.S., together with 459 "legal actions" recently launched against file sharers in the UK and France.
Blame in Canada
Big Music also says "cases" have been launched in Canada.
In reality, a single case was opened in which the Canadian Recording Industry Association demanded that a Canadian court reveal the identities of 29 people it claimed were "illegally distributing hundreds if not thousands of music copyright files to millions of strangers."
The case was tossed out and is now under appeal.
Meanwhile, the real criminals — the organized international counterfeiters — dance circles around the entertainment industry.
---
Jon Newton
, a TechNewsWorld columnist, founded and runs
p2pnet.net
, a daily peer-to-peer and digital media news site focused on issues surrounding file-sharing, the entertainment industry and distributed computing. p2pnet is based in Canada where sharing music online is legal.
---