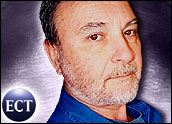 Google is being sued by French news agency Agence France-Presse for using AFP photos and news stories in the Google News listings.
That's a bad break for Google and now, to make things worse, p2pnet.net is joining AFP in suing not only Google, but also Yahoo and any other news aggregation services it can find for reusing p2pnet story leads, headlines and pix without paying for the privilege.
We're demanding US$50 million from each. But we're open to offers. Because if AFP can get away with it, we can too. And what about the other 4,499 new sources Google indexes?
Slippery Slope
Google News and similar news aggregation sites "have become powerful, forcing news organizations like Agence France Presse to rethink their news-distribution strategies," says a CNET story.
"An increasing number of people turn to search to get news, and many publishers have failed to answer readers' shifting appetites fast enough."
Much the same is happening in the world of entertainment where it's not a case of the music and movie studio cartels not just responding to "shifting appetites fast enough": They're not responding at all. Instead, they're trying to sue the millions of people who should be their customers into buying "product."
Just like AFP, which says Google not only infringes on its copyright by reusing story leads, but does the same with headlines and pix.
So does this mean Yahoo! News is about to be nailed by Agence France Presse? After all, AFP stories often appear there. Or is Yahoo forking out to AFP? And if that's the case, is it also reimbursing Reuters, the Associated Press and other sources for using their material?
Fair Use
The EFF's (Electronic Frontier Foundation) Fred von Lohmann says legal precedent allows Web publishers to link to thumbnail images; and, to use headlines and excerpts from the lead of a news story is fair use.
P2pnet.net excerpts all the time and now and again, we lead with a lead, although we don't use pix (well, hardly ever). When we use takes from other online publications, we're at pains to refer to the original source throughout, and to link to it both in the body copy, and via the original headline.
But what about the thousands of sites (probably the majority) which re-publish partial and complete articles from the likes of AFP, justifying this by including "source" at the top or the bottom, with a link to the original?
Will AFP soon be hot-footing after them as well? Or is this really an indication that, like so many other businesses, AFP refuses to acknowledge it's in the digital 21st century and needs to adapt its business practices accordingly?
In the meantime, I've dropped my suit against Google, accepting settlement at value — two jelly beans, a squishy doughnut and 10 cents.
---
Jon Newton
, a TechNewsWorld columnist, founded and runs
p2pnet.net
, based in Canada, a daily peer-to-peer and digital media news site focused on issues surrounding file sharing, the entertainment industry and distributed computing.
---