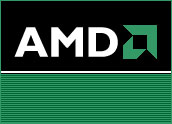 When AMD reported second quarter sales of US$1.26 billion and net income of $11 million buoyed by its processors, it also passed the 10 percent barrier in x86 market share for the first time in company history.
According to a report from analyst firm Mercury Research, AMD's share of the x86 server processor market grew 51 percent in the second quarter, from 7.4 percent to 11.2 percent. Intel remains the dominant market leader with 88 percent share, but Rob Enderle, principal analyst for The Enderle Group, told TechNewsWorld that Intel has reason to be concerned.
"The AMD part is outperforming the comparable Intel part in performance value," he said. "We are dealing with a market that is incredibly focused on value right now. Whenever you have a vendor that is growing market share and growing it apparently very quickly, you've got a lot of reasons for concern."
Cause for Celebration
Meanwhile, AMD has cause for celebration. Some analysts predicted AMD could not penetrate the server market because of Intel's dominance. Others thought AMD would make progress in the desktop space long before it gained traction on the server side because server buyers are typically more conservative.
"Our microprocessor business delivered another record quarter driven by increased demand for AMD server and mobile processors from our largest global OEM customers," said Robert Rivet, AMD's chief financial officer, after the company's second quarter earnings report.
"Once again we continued to gain momentum with microprocessor sales growth increasing 38 percent compared to the second quarter of 2004."
Riding Record Sales
Rivet said the overall demand was enhanced by the company's newer processor offerings. For example, Strong Dual-Core AMD Opteron processor sales contributed to an 89 percent revenue increase in its server products from the prior quarter.
"This demonstrates the acceptance of the AMD64 platform by enterprise customers," Rivet said. "Likewise, the AMD Turion 64 processor captured more than 60 design wins and drove record mobile sales in the thin-and-light mobile PC category."
AMD's Memory Product Group sales increased slightly in the quarter, driven by record MirrorBit Flash memory sales and overall higher unit demand, he said.
AMD shipped true dual-core technology in the second quarter with the AMD Athlon 64 X2 dual-core processors for desktop PCs and dual-core AMD Opteron processors for servers and workstations and has made some influential friends. Many of AMD's OEM customers announced dual-core systems, including Acer, HP, IBM, Lenovo, Sun, Supermicro Computer, Alienware, Cray, and Dawning.
Intel's Challenge
Analysts said the server segment doesn't have the same marketing protection as the desktop segment. In other words, there really is no "Intel inside" campaign for servers that provides an extra hedge against the competition.
"AMD's breakthrough showcases a vulnerability at Intel and AMD is successfully taking advantage of it," Enderle said. "Part of the issue here is Intel being late to market with a true high performance 64-bit transition part. Intel can't let AMD continuously get to market first with critical parts for segment."