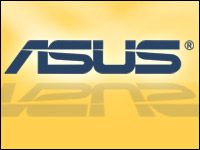 Asus unveiled its slew of new products Tuesday, showing off touch-capable PCs, hybrids, tablets and convertible Ultrabooks optimized to run on Microsoft's new Windows 8 operating system.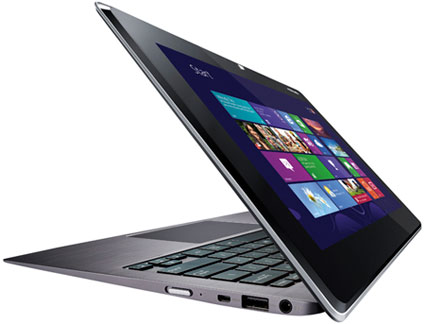 The Asus Taichi, one of a new line of Windows 8 systems announced by Asus
Windows is getting a radical redesign, and many of Asus' new products follow suit, featuring dramatic differences from previous PC and tablet models. One example is the Taichi, a dual-screen laptop with two 1080p IPS screens. The convertible Ultrabook can be used in laptop mode or with the lid closed, like a tablet. The unit's back-to-back screens also can be used simultaneously and independently. Pricing for the Taichi starts at US$1,299, and it will be available in November.
Asus is also releasing another Ultrabook, the Transformer Book. The Transformer features a detachable full-HD screen that can be used as a tablet when separated from the keyboard. It comes in three sizes between 11.6 and 14 inches and comes equipped with an Intel Core i7 processor. Asus hasn't released pricing details for the Transformer.
VivoTab Newcomers
The company also introduced the VivoTab series, with the VivoTab RT, a detachable hybrid tablet and a VivoTab tablet. Both sport a 10.6-inch Super IPS+ display. The VivoTab runs on the x86 version of Windows 8 and comes with an optional a smart-cover and Bluetooth keyboard.
Also in the Vivo series is Asus' VivoBook, available in two models of touch-capable laptops. The touchscreens aren't the full HD versions like on the Transformer Book, but they do come with a keyboard that incorporates gesture controls. Both the X202 and S400 models can be configured with Intel Core processors, with the S400 supporting a Core i7 processor on a 14-inch screen.
The company's Zenbook line will get a refresh soon, too, with new models including full HD multitouch display.
Asus did not respond to our request for further details.
Raising the Bar
Many of the products in Asus's new line of Windows 8-ready devices show that the company is focusing on producing top-shelf products, said Dave Johnson, senior analyst at Forrester.
"Asus has been doing a great job of coming closest to building up to a standard instead of simply down to a price," Johnson told TechNewsWorld. "The screen resolution on the new 13-inch Zenbook Prime bests even the MacBook Air."
That especially applies to consumers looking for fully functional devices they can use for business or multitasking, Johnson pointed out, unlike mainstream consumers looking for a simple laptop or e-reader.
"Asus is positioning themselves well to appeal to the bring-your-own-PC crowd that includes well-heeled executives and professional road warriors willing to spend their own cash to get something nicer. Asus doesn't have the global enterprise relationships of Dell, HP or Lenovo, so their best bet is to continue to appeal to premium consumers," he noted.
Crowded Space
Asus highlighted the benefits of Windows 8 in its new products, including personalization and the touch interface. It isn't the only vendor hoping to capitalize on the Windows 8 launch, however. With new PCs, smartphones and tablets optimized for Microsoft's new system from Samsung, Lenovo and HP set to hit shelves soon, Asus is competing against a tough lineup, said Frank Gillett, vice president and principal analyst at Forrester.
"I think Asus and others will have a hard time differentiating among the noise of the Windows 8/RT devices," he told TechNewsWorld.
The company should stick to its commitment to offering top-shelf, highly useful products if it wants to make a splash over the holiday season and coming months when Windows 8 products will be getting more attention, said Johnson. A product like the Taichi might circulate heavy buzz for its dual-screen capabilities, but it's better to have a highly practical device than an attention-grabber, he said.
"It's unique but not necessarily in a good way," he noted. "The buyers in the premium segment seem pretty sensitive to image and the Taichi may draw more attention than they want — it comes off as a gimmick rather than something genuinely useful."