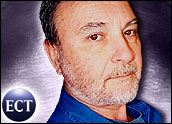 Sooner or later, the entertainment industry will realize that the only effective way to deal with peer-to-peer file-sharing technology is to embrace it. It's not going to go away.
But until that happens, the file-sharers of the world will continue to provide all kinds of lucrative opportunities for lawyers to get into Hollywood's bottomless pockets, not to speak of all those surefire digital rights management technologies, copyright-protection scams, P2P filtering systems, pseudo-cops and spoofing operations. You name it. And when you do, don't forget the politicians.
Senator Orrin Hatch, chairman of the U.S. Senate Judiciary Committee and a well-known supporter of all things Hollywood, last year expressed a serious interest in remotely destroying file swappers' computers.
"No one is interested in destroying anyone's computer," Randy Saaf of MediaDefender, one of the scalp-hunting services used by Hollywood to chase down file-sharers, was quoted as saying in a Wired News article. "I'm interested," Hatch interrupted in the story, saying that destroying somebody's PC might be "the only way you can teach somebody about copyrights."
This earned him the sobriquet "terminator," after the murderous android portrayed by California governor Arnold Schwarzenegger in the "Terminator" movie series.
Pirate and Protect Acts
Now Hatch's Hollywood-inspired kill-P2P bill, called the Pirate Act, amends federal copyright law so that the U.S. attorney general can "commence a civil action against any person who engages in conduct constituting copyright infringement."
Short for Protecting Intellectual Rights Against Theft and Expropriation, the Pirate Act also "Directs the AG to develop a program to ensure effective implementation and use of the authority for civil enforcement of the copyright laws, including training programs for qualified personnel from the Department of Justice and United States attorneys offices."
The Piract Act more properly would be called the Use Taxpayer Money to Protect Hollywood Profits Act. The Senate might even vote on it this week.
Moreover, the Pirate Act will allow the Department of Justice to do what even the RIAA hasn't been able to do: use wiretaps to collect evidence against alleged copyright infringers — thanks to another Hatch-supported measure, the Protect Act, named after Prosecutorial Remedies and Other Tools to End the Exploitation of Children Today.
Among other things, the Protect Act authorizes "the interception of wire, oral or electronic communications in the investigation of kidnaping [sic], sex trafficking, and sex offenses against children."
Works for Hire
The Protect Act so far has led to only one arrest. Under it, FBI agents attached a monitoring device to the suspect's phone line and tracked his Internet activity in real-time. With the wiretap in place, "it doesn't matter who you're dealing with, we're standing over the top of you watching everything that's going on," Ronald Wilczynski, the Sacramento FBI agent overseeing the probe, was quoted as saying.
Hollywood is nothing if not inventive in finding ways to interpret legislation to suit its purposes, whatever they might be at any given moment. It's also adept at suborning police forces around the world into acting as unpaid enforcement agents. Operation FastLink, for example, had FBI agents raiding schools in Arizona looking for pirated digital movie and music files.
And let's not forget the National Security Letters (NSLs) freely used by FBI agents to demand detailed information about people's private Net communications from ISPs, Web-based e-mail providers and other communications service providers.
Flexible Prosecution?
In the meantime, RIAA lobbyist Mitch Glazier was recently quoted as saying, "If you're going to try to make sure that you have effective deterrence, then one of the tools you'll need is to make sure that prosecutors have flexibility."
Flexibility is Glazier's middle name. He was once chief counsel of the subcommittee on courts and intellectual property, and former chief of staff to Howard Coble, onetime chairman of the subcommittee.
Glazier became infamous in 1999 after slipping the "sound recording" amendment into the completely unrelated Satellite Home Viewer Improvement Act, slated for safe passage through Congress.
This made music recordings "works for hire" that in turn meant artists weren't able to get possession of their own masters. Naturally, the artists believed they'd been hung out to dry.
Oversight Hearings
The scandal led to an oversight hearing in May 2000, chaired by (you guessed it) Coble, who led off with the following statement: "As many of you know, this amendment has caused some to criticize my colleagues, my staff and me as having indulged in unfair, deceptive and sneaky behavior."
Under the 1997 No Electronic Theft Act, federal prosecutors can file criminal charges against peer-to-peer users who make a large number of songs available for download. A July 2002 letter from prominent congressmen to Attorney General John Ashcroft urged the prosecution of Americans who allow mass copying from their computer over peer-to-peer networks.
But not one peer-to-peer criminal prosecution has taken place in the United States. The Justice Department has indicated it won't target peer-to-peer networks for two reasons: Imprisoning file-swapping teens on felony charges isn't the department's top priority; and it's always difficult to make criminal charges stick.
Pirate Act Responds to Justice
"The Pirate Act was crafted to respond to the Justice Department's concern. Federal prosecutors have been hindered in their pursuit of pirates by the fact that they were limited to bringing criminal charges with high burdens of proof," Sen. Patrick Leahy (D-Vermont) said in March.
"Prosecutors can rarely justify bringing criminal charges, and copyright owners have been left alone to fend for themselves, defending their rights only where they can afford to do so," said Leahy. "In a world in which a computer and an Internet connection are all the tools you need to engage in massive piracy, this is an intolerable predicament."
Critics also charge the act might invent a form of double jeopardy because it would let the RIAA sue the same people already sued by the Justice Department.
But back to Hatch and Leahy: In the 2002 cycle, Hollywood supported Hatch to the tune of $175,332 and, so far in 2004, has pumped $157,860 into his coffers. Meanwhile, Leahy's top supporters for 2004 include Disney at $44,500, Viacom at $36,000, Time Warner at $28,250 and General Electric at $22,500. At $160,250, Leahy's top contributor in 2002 was, once again, Hollywood. And for 2004, he's so far chalked up $181,000.
---
Jon Newton
, a TechNewsWorld columnist, founded and runs
p2pnet.net
, a daily peer-to-peer and digital media news site focused on issues surrounding file-sharing, the entertainment industry and distributed computing. p2pnet is based in Canada where sharing music online is legal.
---