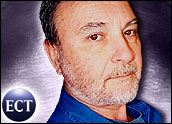 Music being burned onto CDs is becoming a bigger threat than P2P file-sharing to both the music industry and record stores.
The news comes from Recording Industry Association of America chief Mitch Bainwol, speaking for his bosses and the RIAA's owners, the members of the Big Four record label cartel.
Home-made CDs accounted for 29 percent of all recorded music obtained by fans in 2004, compared to 16 percent attributed to downloads from online file-sharing networks, said Bainwol, quoted in an AP story.
However, the source of these new data is none other than the NPD Group, a market research firm which appeared almost overnight in late 2003, claiming to be an authority on music and file sharing.
The firm doesn't say how it was able to come up with such remarkably precise percentages, however.
A Little Suspicious
As I posted in a p2pnet story featuring interesting NPD numbers, "When we first came across it [the NPD], adidas International, International Flavors & Fragrance and Wrigley typified its client base, but it was nonetheless churning out 'studies' and 'reports' bolstering entertainment cartel party lines. We e-mailed NPD wondering how many years experience it had in the music research field and asked about the team of interviewers/statisticians we thought it must boast given the nature and number of its outpourings."
We never did hear back, and when I visited the NPD site during its initial appearance, I wasn't able to find a single music, or other entertainment industry, client, although since then, the company has added movies, music, video, TV, etc., to the areas in which it claims expertise.
However, also since then, the NPD has managed to gain favor with the record label cartel to the extent that it was commissioned to come up with a 'report' on their behalf.
Its findings suggested "that about half of all recordings obtained by music fans in 2004 were due to authorized CD sales and about 4 percent from paid music downloads," the aforementioned AP story said, which also has Bainwol telling 750 members of the National Association of Recording Merchandiser: "CD burning is a problem that is really undermining sales."
The solution? Simple. DRM. Or, Digital Rights Management, for the unitiated. Bainwol has stated that DRM is an "answer to the problem that clearly the marketplace is going to see more of."
However, as the story emphasizes, "Velvet Revolver's 'Contraband,' released last year, was equipped with such copy-protection technology and grabbed the top sales spot in its debut week."
It also appeared virtually simultaneously on the P2P networks.
Truth of the Matter
The same AP story indicated that "Some saw that as a sign music fans didn't mind CDs with copy restrictions."
"But other releases since, such as the latest Foo Fighters album, have sometimes spawned fan complaints that the restrictions go too far or create technology conflicts with portable audio devices," the story said.
DRM notwithstanding, the Foo Fighters, too, enjoy considerable popularity on the P2P networks.
The simple truth of the matter is: DRM is a loser from the word "go." Anything which can be seen or heard can be copied by one digital or analog means or another, and it will always be so.
As p2pnet reader Iain Elder once suggested, "Everyone can beat DRM, and you don't even need to be a hacker. If you have a personal CD player, and a line-feed cable (with the small jack plugs), then you can rip the CD analogally.
Losing Battle
"Just connect one end of the line-feed to the headphone-out socket on your CD player and connect the other end to the line-in socket on your sound card. Play the CD, while recording using sound editing program. After each track is recorded, normalize the track volume, and then that's basically it!"
Still, this won't stop the entertainment and software cartels from being easy marks for the makers of purported DRM applications.
Nor will this burning news lead to a concerted attack on burner manufacturers and sellers such as Sony, one of the cartel owners which not at all coincidentally, also makes camcorders, the bane of the major movie studios.
---
Jon Newton
, a TechNewsWorld columnist, founded and runs
p2pnet.net
, based in Canada, a daily peer-to-peer and digital media news site focused on issues surrounding file sharing, the entertainment industry and distributed computing.
---