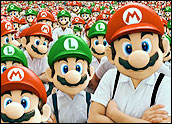 Nintendo's Wii U will be out in time for the 2012 holiday season and will feature NFC technology, according to the company.
The next-generation Nintendo Wii will have a handheld controller with a touchscreen that can interact with what's showing on the TV screen. The new device will also come equipped with NFC technology, allowing users to create cards and figurines that would allow users to connect to other users and the system in new ways. In addition, the technology could allow players to buy in-game items or apps without having to enter credit card information, a possible advantage over gaming competitors such as Xbox and Playstation.
The technology is popular in Japan and other East Asian countries and is slowing making its way toward smartphones in the U.S. as a way to quickly pay for items at retail locations.
In addition to NFC technology, Nintendo aims to expand the networking experience for gamers. The company uses an online competition mode called "Communities" for players of "Mario Kart 7," a Nintendo 3DS game. Players can add users from different systems and personalize their experience within their respective "Mario Kart" communities. With Wii U, Nintendo plans to expand those networking capabilities to all users.
In Homes for the Holidays
Details about Wii U were first revealed last June at E3. More recently, company officials said more info about the product will be announced at this year's E3 and that the console will go on sale in the U.S., Europe and Japan for the holidays.
In Nintendo President Satoru Iwata's briefing about its quarterly results and the Wii U launch, he said
Nintendo wants to ensure the system is fit for consumers and will come out in time for the holiday retail season, President Satoru Iwata said. The value of timing, he added, was a "bitter" lesson learned from its launch of Nintendo 3DS handheld gaming system. The 3DS came out last March and has seen much lower sales than the company had expected.
Nintendo didn't respond to our requests for further comment.
Tougher for 2.0 Launch
Nintendo's Wii was a huge hit for the company when it first debuted in 2006, mostly because of its motion control technology. This time around, though, with similar products already on the market, a launch with the same kind of impact as the first Wii release will be more difficult to achieve.
"The Wii was novel and appealed to a market well beyond the conventional gaming audience. I suspect that the Wii U's tablet controls will have similar appeal, but they are hardly novel, given that tens of millions of people have tablets, and hundreds of millions have smartphones and iPod touch devices. The touchscreen is well-understood by the target market, so it is a natural progression, but not particularly unique," Michael Pachter, managing director of equity research at Wedbush Securities, told TechNewsWorld.
The NFC technology could be what sets the Wii U apart from competitors. In addition easing the way for in-game payments, the technology could enable Nintendo to merge the video game and real-life game worlds, for example by making real-life "Pokemon" game cards NFC-capable. Purchasing something in real life could bring advantages to the digital game, enhancing sales on all levels for Nintendo.
"NFC is definitely a slam dunk feature for the Wii U. Its possibilities are substantial and go hand in hand with Nintendo IP. Third parties who have made inroads into smart toys will also enjoy this technology being included with the console," Ted Pollak, senior gaming analyst at Jon Peddie Research, told TechNewsWorld.
The timing of the release, both around the holidays and around the time the present Wii platform turns six years old, could also work in Nintendo's favor.
"Nintendo is releasing the powerful console as gamers start to fatigue from older hardware, which is good timing," said Pollak.
Needs a Home Run
In addition to the news about Wii U, Nintendo also recently revealed its latest earnings report. The company reported a loss for the first three quarters of its fiscal 2011, and it predicts a bigger loss for the fiscal year, which ends in March.
Slow 3DS sales shouldered a great deal of blame for the loss, which Nintendo said could be as much as US$838 million on the year. Although "Super Mario 3D Land" and "Mario Kart 7" have helped kickstart 3DS sales since November, the company lowered its sales outlook for the devices and are hoping the Wii U will be the boost it needs.
"Nintendo is in a pretty weak position right now, with Wii and handheld sales down each of the last two years, and heading for further declines. Their sales are sufficiently poor that they are unprofitable for the first time in a long time, and they need the 3DS and Wii U to sell well in order to return to profitability," said Pachter.
Nintendo likely hopes the NFC technology and networking aspects of the new console will give it a competitive edge to stay relevant in the gaming marketplace.
"At the end of the day, Nintendo will be playing on a much more even field this time around, and will need to deliver on many levels for success," said Pollak.