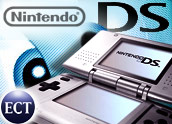 On the heels of an initiative to offer complimentary access to Nintendo WiFi Connection in thousands of McDonald's restaurants in the United States, the video game giant announced today it will also offer its new wireless gaming service for DS handheld game console users in Europe and Asia.
Gamers will have free access to more than 7,500 hot spots in the United Kingdom, including McDonald's restaurants, Coffee Republic coffeehouses, Hilton and Ramada Jarvis hotels, Road Chef and Welcome Break service stations, railway stations, airports, football stadiums.
Setting the Pace
Major video game stores and even the British Library will also feature WiFi hot spots open to DS gamers. Nintendo said other yet-unnamed European and Asian companies will be launching services in the future.
The Cloud and BT Openzone are providing the wireless access. Nintendo is funding the initiative. The goal is to extend WiFi service to Nintendo DS users in key markets with its wireless gaming service that goes online November 14. The wireless initiative will launch in the UK on November 25.
"Nintendo is bringing a significant, groundbreaking deal to the UK. Launching our WiFi service in partnership with two of the UK's leading providers of hotspots is a massive statement of our commitment," said David Yarnton, general manager for Nintendo UK. "Nintendo has revolutionized WiFi video gaming, removing all of the negative aspects whilst retaining the fun and diversity it offers. The Nintendo WiFi Connection service truly offers the mass market a great opportunity to fully embrace WiFi."
Building a Wireless Community
Nintendo said the WiFi Connection creates a community where gamers can log on wirelessly and begin playing favorite franchise games like Mario Kart DS and Activision's Tony Hawk's American SK8Land.
Game play will be free, and users will be able to connect to Nintendo WiFi Connection in a variety of ways. For example, when a user brings a Nintendo DS unit and a WiFi-enabled game into participating location, the user can launch the game in Nintendo WiFi Connection mode with no required setup.
"By bundling free usage in with the game, engineering the DS so it can automatically connect to the network, creating market leading games, and pioneering new communities of users, Nintendo is breaking down all the barriers to usage that have slowed the growth of WiFi," said George Polk, CEO of The Cloud.
Wireless Play Everywhere
Users can connect the Nintendo DS unit directly into their home-based WiFi network.Nintendo said those who have a high-speed Internet connection such as cable or DSL, but no wireless network, can use the Nintendo WiFi USB Connector, which will plug into the USB port of a PC running Windows XP to create a wireless access point to connect a DS to Nintendo WiFi Connection. The Nintendo WiFi USB Connector will be sold exclusively on Nintendo.com.
Nintendo DS owners who want to play games at WiFi locations outside the network or their home can use a laptop computer and the Nintendo WiFi USB Connector to access Nintendo WiFi Connection. The Nintendo WiFi USB Connector enables the Nintendo DS to share an Internet connection established by a PC, providing a conduit to play games via Nintendo WiFi Connection.
Nintendo's Catch-Up Game
Nintendo said players have the option to select to play with just friends, or people of a similar skill level around the world without fear of harassment. Players do not have direct communication with each other when playing anonymously and therefore personnel details or inappropriate comments cannot be exchanged.
Yankee Group Senior Analyst Mike Goodman told TechNewsWorld that DS gamers will likely welcome the wireless concept, particularly in Asia where online gaming is more popular than in the U.S. Hot spots, he added, will somewhat level the playing field with PSP, but that's not enough to regain its crown in the video game market.
"It's not just cutting deals that enable wireless game play, it's also having multi-player games," Goodman said. "That's where Nintendo is way behind the PSP because essentially every PSP game is an online capable game. That is going to be the next step for Nintendo."