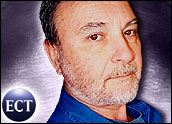 Q: What's the difference between Chi-Hi, a high school, and a 12-year-old named Brianna LaHara? A: 500 CDs.
It's now routine for the Big Five record labels to sue innocent people for allegedly sharing music online without permission, and 12-year-old Brianna LaHara was one such person sued by Big Music.
The Recording Industry Association of America (RIAA) set its legal teams on her for allegedly downloading "If You're Happy and You Know It" and the Family Matters TV theme, which were among 1,000 songs Big Music claimed Brianna had snagged illegally with a P2P file-sharing application.
"We're trying to send a strong message that you are not anonymous when you participate in peer-to-peer file-sharing," said Mitch Bainwol, RIAA chairman at the time.
What has that to do with Chi-Hi, short for Chippewa Falls High School? The other half of Bainwol's comment was that the "illegal distribution of copyrighted music has consequences," and that's certainly true — even if the "illegal distribution of copyrighted music" part hasn't yet been upheld in a court of law.
Chi-Hi's Prom Committee
LaHara's mother had to pay the music industry US$2,000 to settle out of court. But Sony — one of the Big Five labels — decided not to sue the members of Chi-Hi's prom committee even though they'd burned Sony songs onto CDs and then distributed them to students so they could remember their prom night.
Chi-Hi is in Chippewa Falls, Wisconsin, and its prom committee bought the custom CDs at $3.69 each, paid for with proceeds from junior-class fundraisers and other proms. The CDs were given to 500 people who each had paid $14 to attend the prom.
"We use the funds to offset the costs of the prom, and if there's anything left over, it goes into the senior-class fund," Chi-Hi principal Dr. Jim Sauter told me.
The prom committee had burned The Bangles' "Walk Like an Egyptian," Sara Evans' "Born to Fly" and "100 Years" by Five for Fighting onto them. No, the committee hadn't considered the possibility that it might have been breaking anyone's copyright.
Nor, apparently, had Stumps, the company that supplied the CDs.
Unwanted Attention?
A Stumps catalog actually suggested making CDs, Sauter told me. "Record songs from prom night on CDs and store them in imprinted cases for memories that will last a lifetime," said the catalog, quoted in a Chippewa Herald story.
Sauter said the thought that burning and then distributing the CDs might bring unwanted attention from the music industry hadn't occurred to anyone.
But it had occurred to the local newspaper that contacted Eugene Quinn, a patent attorney and law professor at Syracuse University — which is having its own problems centering on the music industry — asking what kind of danger the school was in.
Predictably, Quinn issued dire warnings.
"This might be big enough for the RIAA to follow up on," he told staff reporter Jeff Hage. "What the recording industry does is pick someone who has a clear infraction and make an example of them."
The bottom line, Quinn said, was that burning the CDs wasn't unlike stealing from the recording artists, who count on the royalties from music sales. "Burning 500 CDs could get the recording industry's attention. A handful doesn't. Hundreds do."
Applying the Philosophy Elsewhere
The copyrights to all of these songs are owned by Columbia Records, which is, in turn, owned by Sony.
"Columbia told school officials that the record company would grant retroactive licensing to the school for three songs that were burned onto a CD used as prom gift on May 8," said the Herald, which went on to quote Sauter as saying of record company officials: "They were very nonjudgmental. They said they get hundreds of request like ours every month."
With that as a precedent, perhaps Sony and the other companies will now apply the same laid-back nonjudgmental philosophy elsewhere, freeing them to deal with the real copyright criminals — the thousands of organized gangs and individuals around the world who, day in, day out, are counterfeiting and duplicating countless millions of CDs and DVDs for resale on the international underground market.
In the meantime, adds the Herald story, when the dust clears, Sauter said the school might send the catalog company a letter.
---
Jon Newton
, a TechNewsWorld columnist, founded and runs
p2pnet.net
, a daily peer-to-peer and digital media news site focused on issues surrounding file-sharing, the entertainment industry and distributed computing. p2pnet is based in Canada, where sharing music online is legal.
---