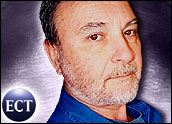 Revenge is sweet.
Record-breaking box-office receipts came in for the opening of the final installment of the "Star Wars" series this past weekend.
Having grossed US$158.5 million from Thursday to Sunday, "Revenge of the Sith" currently stands as online ticket seller Fandango's top-seller for opening weekend sales, according to MarketWatch. And the first two days were Fandango's top-selling 48 hours. Ever.
So where does that leave Dan 'Darth' Glickman, the boss of the movie studio cartel's MPAA (Motion Picture Association of America) who's been screaming about the appearance of "Sith" online?
Inside Job
As everyone except the mainstream media knows, "Sith" showed up on the P2P networks the same day it opened in theaters. But the P2P viewing wasn't due to the efforts of an evil file sharer with Sony's latest pirate camcorder stashed under his/her grubby rain-coat.
Rather, it was because of yet another Hollywood insider leak — not that it stopped Glickman from ranting about P2P file sharers, BitTorrent and anything else that came to mind.
Of 285 movies researchers sampled on the P2P networks, 77 percent were leaked by industry insiders, says the 2003 AT&T Labs report Analysis of Security Vulnerabilities in the Movie Production and Distribution Process.
Actor and studio owner Mel Gibson knows all about that. His Icon company sued a Hollywood post-production house for the online appearance of his "Passion" movie.
Placing Blame
And Russell Sprague got 130 movies from Academy of Motion Picture Arts and Sciences member Carmine Caridi, who was ordered to pay Warner Bros. a paltry US$300,000 for providing Sprague, who died in an L.A. jail cell, with the copies.
Had someone other than an academy member been caught dishing out 130 Hollywood features, Warner would have demanded millions of dollars in retribution and the case would have been splashed, splashed and splashed again by the world media.
But the Caridi debacle didn't receive anything like the kind of mainstream media exposure it warranted.
Meanwhile, although "Sith" was released officially on Thursday, it was already circulating on the P2P networks by Wednesday night.
Cash-Free
How do we know the leak was down to a Hollywood insider? Because the online version was a work print, not a copy made on a hidden camcorder.
Be that as it may, how much did downloaders pay for their private viewings? Not one red cent. No money changes hands on the P2P networks. Nor did it cost Hollywood anything serious in the way of box office receipts.
So will this now persuade the movie studio cartel to stop its ridiculous practice of suing its audiences and shutting down BiTorrent sites? And will the studios put their own houses in order?
Not a chance.
---
Jon Newton
, a TechNewsWorld columnist, founded and runs
p2pnet.net
, based in Canada, a daily peer-to-peer and digital media news site focused on issues surrounding file sharing, the entertainment industry and distributed computing.
---