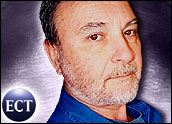 It's the dripping tap principal. Eventually, you can't hear anythingelse.
Repeat something continually and people — including the mainstream printand electronic media — will start to believe it, particularly if whatyou're saying comes nicely wrapped in a study.
"The paid-for music downloading market in Western Europe has beenlanguishing behind the United States — until now," a new Forrester reports says, according to a Reuters story. "The market will finally take off in 2004."
There Is No Downloading Market
This suggests that there is a music downloading market. We're two-thirds of the way through 2004, however, and not only hasn't that market taken off, it barely exists.
Forrester reports tend to reflect prevailing corporate views. "Consumers are gradually coming around to the idea that paying for downloads gets them quality, reliable music, and services will becomeeasier to use as broadband penetration increases," Reutersquotes a Forrester analyst as saying.
The corporate sites are indeed difficult, because users have to wade through endless pop-ups and other worthless adverjunk before they can get to the "product."
Independent person-to-person (P2P) applications and sites are, by contrast, simple to use. And given that there's little discernible difference between one MP3 and another, quality is not a factor, nor is reliability.
Old and Young Stay Away in Droves
"Half of today's online music business is drummed up by young consumers, aged between 16 and 24," the Forrester analyst said.
The implication is that these "young consumers" are buying from the likes of iTunes and Connect, but that's not the case. In the real world of online music, "young consumers" are staying away from the Big Four record label cartel sites.
The analyst also claimed, "Forrester sees that older consumers are slowly getting into the habit, as services expand their offerings and become simpler to use."
But online corporate services have yet to expand their offerings in any significant way. Again, by way of contrast, the P2P nets are packed with "older consumers" searching for, and finding, quality "oldies" and other tracks that aren't available from the Big Music-supplied Apple iTunes or Napster.
Hill of Beans
Apple says it sold five million tracks in 10 weeks after its European iTunes launch, and that it's sold more 100 million songs since its American site opened almost eighteen months ago.
But this doesn't amount to a hill of beans compared to what's happening in the real world of online music.
There, both young and old are waiting for the entertainment industry to wake up to the idea that it's the 21st century, not 1970.
Peer-to-peer applications are now widely used as major marketing, sales, distribution and communication vehicles, and soon they'll become primary.
Freely Flowing Files
Big Champagne is a research company that's made a specialty of tracking P2P file-sharing statistics. The number of users sharing files at any given moment on the Internet grew from 6.8 million in June 2003, to 7.7 million by November of that year, to 8.8 million in February of 2004.
Moreover, every month, at a conservative estimate, more than one billion digital music files are moving among, and between, computers around the world.
And yet neither the music business nor the movie studios are even close to tapping this enormous gold mine.
You'd think their shareholders would be asking questions.
---
Jon Newton
, a TechNewsWorld columnist, founded and runs
p2pnet.net
, a daily peer-to-peer and digital media news site focused on issues surrounding file-sharing, the entertainment industry and distributed computing. p2pnet is based in Canada where sharing music online is legal.
---